Dairy farmers discuss action over milk price cuts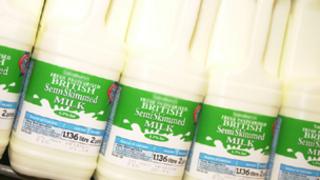 More than 200 farmers attended a meeting in Carmarthenshire to voice their concerns about milk price cuts.
Some farmers called for action, with one suggesting pouring milk down the drain in two days of protests.
Deputy minister for agriculture, Alun Davies, said the Welsh government would do all it could to help the industry.
Meanwhile, Welsh farmers were among the hundreds blockading a milk processing plant in Somerset over price cuts of 2p a litre.
Local politicians Rhodri Glyn Thomas AM and Jonathan Edwards MP organised Thursday's meeting at The White Hart, Llandeilo, with farmers, and the deputy minister.
Mr Thomas said the number of dairy farmers in Wales had halved in the last 13 years.
"The current crisis in which producers are facing significant losses will only add to the demise of the dairy industry if we don't tackle this problem once and for all," he said.
"Facing an additional three to four pence per litre below the cost of production equates to an estimated £65m loss to the Welsh dairy sector every year."
Dairy farmer Nigel Batten, from Tenby in Pembrokeshire, attended the protest in Somerset.
Mr Batten, the west Wales co-ordinator for campaign group Farmers For Action, said the problem was the price being dictated by processors who were being pressured by supermarkets selling milk as "loss leaders".
He said there is plenty of money in the milk chain but that most was going to supermarkets leaving a small amount to be split between processor and producers, farmers.
"This can simply be sold by retailers stop discounting milk," he told BBC Radio Wales.
"A lot of farmers are going to go out of business."