London 2012: Wales' football talent conveyor belt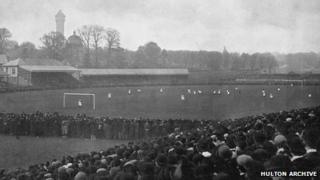 When Team GB kicks off its Olympic men's football campaign against Senegal on Thursday, it will feature five Welsh players, including captain Ryan Giggs, in a squad of 18.
It would have been six - but for one of Europe's biggest football talents, Gareth Bale, aggravating a back injury.
Scotland and Northern Ireland have none.
Swansea City alone have three in the squad of mostly young players in line with Olympic football rules, more than any other club - including Welshmen Joe Allen and Neil Taylor.
Giggs, Craig Bellamy and Aaron Ramsey make up the talented quintet.
Quite an achievement for a country with a population of little over three million and with a reputation for a love of the oval-shaped game.
But delve a little deeper and it should not come as a surprise.
Europe's best
The Football Association of Wales says about 100,000 (80,000 registered) play football, compared to the Welsh Rugby Union's estimate of over 45,000 registered rugby players.
Perhaps a lack of success in qualifying for major tournaments has overshadowed the Welsh production line of players of the highest quality.
Greats over the years include Billy Meredith, who played for both Manchester City and United in a career spanning the 1890s to the 1920s; Swansea brothers Ivor and Len Allchurch who each made over 600 appearances in total for their clubs; Cliff Jones of Tottenham's 1960-61 league and cup double-winning team; John Charles, who was considered perhaps British football's most successful export, with Italian side Juventus; Ian Rush, who scored over 300 goals for Liverpool in the 1980s and 90s; and Giggs, the most successful player of the lot in terms of trophies won.
You could also throw in Alf Sherwood, Trevor Ford, Mel Charles, John Toshack, Mark Hughes and Bale for good measure.
The reasons for this talent are varied but there is one major historical factor that cannot be ignored - late 19th Century migration patterns.
'Very cosmopolitan'
Swansea City fan and historian Prof Peter Stead said football initially struggled to make an impact in Wales because rugby had taken a grip on parts of the country.
"People were coming into Wales at the end of the 19th Century from England, and there were definitely soccer and rugby areas in Wales," he said.
"Wales was very cosmopolitan at the end of the 19th Century.
"Some villages were more Welsh speaking while others more English, and my guess is that the soccer players came from there."
Prof Stead said Merthyr Tydfil, where he grew up, was a football town, but parts of the valleys around were more rugby orientated.
The more cosmopolitan urban areas of south Wales influenced by immigration tended to favour football, while the outlying areas preferred the established rugby.
"In Swansea, the inner suburbs were soccer but the more you went up the valleys, it was rugby," he said.
"Nearly all the great soccer stars from Swansea came from round the Vetch [Swansea's former city centre stadium] or the area around where the Liberty is now [Landore].
"The rugby players came from Gowerton, Gorseinon and the Swansea valley further north."
Cardiff is currently producing many of Wales' best players, with Giggs, Bellamy and Bale all from the city.
This is not a great surprise to Dr Dilwyn Porter, professor of sports history at De Montfort University in Leicester.
'Work their way up'
He said it sounded obvious, but the areas that produced a lot of good footballers were those "where there is a strong football culture".
"It's usually an industrial base like the north east of England, Glasgow and London," he said.
"Football will be strong in the schools... and that helps to provide the path that they can begin on.
"I think that's one of the strengths of football in Britain. it does have a pyramid in which they can work their way up.
"I know there's a natural inclination to think of Wales as separate, but you also have to ask about how Wales is similar to other parts of Britain."
He said the football culture in south Wales was similar to that in Birmingham, Manchester or Liverpool so players would be produced in the same way.
The other area to have produced some of Wales' most notable players is north east Wales, most famously in the 1980s and 90s.
Hughes, Rush and goalkeeper Neville Southall were all world-class stars who performed with distinction for some of England's greatest clubs.
Dr Porter says it can be explained.
"You've got to remember that if you are looking at the origins of soccer in Wales, it was in north-east Wales," he said.
"This was where the headquarters of the Football Association of Wales was for a long time.
"You can also argue it has strong connections with the centres of football in Liverpool and Manchester, and it was a coalfield, so there's a long-standing connection between that sort of society and producing great sports people."
The current crop of Welsh players in the Olympic team - who will be playing against Uruguay at Cardiff's Millennium Stadium on 1 August - are still mostly from the old industrial, football-loving heartlands of Wales.
However, there is a hint that patterns are changing, with Team GB's Joe Allen coming from the heart of Pembrokeshire.
"It's more haphazard now because players will come from everywhere," said Prof Stead.
"The sporting culture is affected by television and so on and [football culture] goes right across the country now."