Irish Sea windfarm proposals lodged with planning agency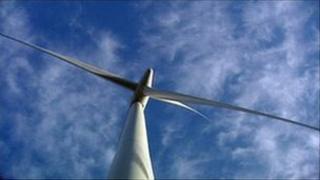 Initial proposals have been submitted for a giant windfarm development in the Irish Sea between Anglesey and the Isle of Man.
The joint venture between Centrica and a Danish energy company could see up to 440 turbines built.
BBC Wales understands that no financial decisions have been made yet, nor planning applications submitted.
It is one of a dozen sites around the UK where offshore windfarms could be built in the next 10 years.
The initial proposals, involving Centrica and Dong Energy, have now been submitted to the UK government's National Infrastructure Planning agency.
The development, which was first announced in January 2010, would be around 14km (9 miles) from Anglesey and 34km (21 miles) from the Isle of Man.
It would feature between 147 and 440 wind turbines, and generate up to 2.2 gigawatts.
Centrica said at the time that developing in the Irish Sea could dramatically increase renewable energy output, but offshore wind was expensive to build and would need a "long-term, stable support mechanism to make these investments commercially viable for the foreseeable future".
Last month, an Isle of Man travel watchdog criticised the planned development claiming it would disrupt ferry routes, causing longer journey times and higher fares.
A spokesperson for Centrica said it would meet with Travelwatch to discuss concerns, and said the proposals were at an extremely early stage.