Prince Charles urges local food strategy in Carmarthen visit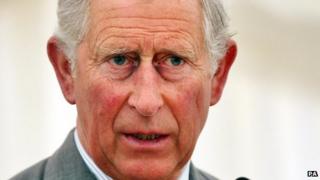 Prince Charles has urged the production of sustainable, local food as "vital" for the rural economy and communities.
He suggested a strategy in Wales "so that more of the food produced here actually stays here" to be processed and consumed.
The prince spoke at a food and farming seminar at the National Botanic Garden in Carmarthenshire.
It came on his fourth and final day of his annual visit to Wales.
The event was aimed at contributing to a new food strategy for Wales and looked at marketing, tourism and rural skills.
"We can all too easily forget the central relationship between humanity and the land," said the prince.
"We have to see sustainability as much more than just an environmental or green issue - it is an absolutely vital economic issue."
He told the food seminar in Llanarthne: "The way we produce food has to be as sustainable as possible.
"If, like me, you have your sights set firmly on the future then in the very challenging circumstances of the 21st Century we have to see sustainability as much more than just an environmental or green issue.
"It is an absolutely vital economic issue, one that underpins any attempt to create long-term resilience in the country's food security, particularly as we are now exposing ourselves to increasingly severe climate and weather shocks by failing to act globally on climate change."
He added: "Genuine sustainability is central to safeguarding jobs and promoting the rural economy. But it must do this in an intergrated way."
The prince also asked where food produced in Wales ended up.
"Is it not worth developing a more specific strategy that re-localises the food system in Wales, so that more of the food produced here actually stays here, to be processed and consumed?
"I wonder how much of the food that supplies, say, local Welsh schools actually comes from Welsh farms around them?
"Or does that prove too expensive, so it ends up coming from much further afield?"
He closed by saying it had been "inspiring to see so many examples over the past few days of those in rural communities in this part of the world pulling together, often against very difficult odds, to produce food of such quality".
"It has encouraged me to believe that it is possible to forge an intelligent, scientifically sound, local and economically viable approach to food production which dramatically enhances the resilience of food security here in Wales."
Those watching the speech applauded the prince's message.
Councillor Kevin Madge, leader of Carmarthenshire County Council, said it was a "wonderful" speech.
"He's put his finger on the problems that we've got with the environment. What he says about growing and sourcing food locally is something we as a council we're trying to promote," he said.
"He's had that vision for years - he's telling us the environment is changing and we must change with it. We've got to start listening to him."
Steve Garret, director of the Cardiff-based Riverside Community Market, said the speech really "resonated" with him.
"I was really pleased to hear him talk about relocalising, buying food produced nearer our centres of population," he said.
"This is what resilience and sustainability is. It was music to my ears."
Research student Joe Moughan, 21, from Luton, presented the prince on his departure with some rare meadow clary plants, now extinct in the wild in Wales.
"The prince is very interested in restoring hay meadows," said Mr Moughan.
"We spoke a lot about different plant species. He's very knowledgeable about them.
"Meadow clary should grow very well at Highgrove."
Organic advocate
Alun Davies, deputy minister for rural affairs, thanked Prince Charles for his speech and said that the Welsh government was committed to sustainable food production in Wales.
The minister added that he would be taking measures to ensure the survival of the Welsh dairy industry.
The food seminar covered a range of issues including rural skills, production, marketing, tourism and rural sustainability.
The prince is known for his support of organic farming, with food produced at his Highgrove estate in Gloucestershire on sale to the public.
As part of his final day in Wales, the prince was also due to visit the Felinfoel brewery and open new offices for the Prince's Trust in Llanelli.
On Wednesday Prince Charles and the Duchess of Cornwall met farmers, food producers, and business representatives in Ceredigion.
The royal couple spent Tuesday with artists and community groups in Brecon .
On Monday they visited people recovering from the floods in Ceredigion and officially opened the Welsh Food Centre in Conwy .