Prince Charles and Duchess of Cornwall visit Brecon
10 July 2012

From the section

Wales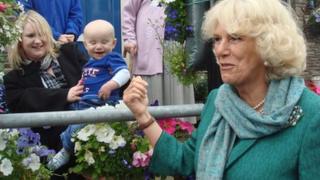 Prince Charles and the Duchess of Cornwall were greeted by cheering children when they arrived in Brecon for the second day of their Wales tour.
Pupils from Priory Church in Wales primary school waved union and Welsh flags on the path to Brecon Cathedral.
The prince is a patron of its choir appeal which has reached its £1m target to support its work and music.
The couple chatted to artists behind works to raise funds for the Brecon Cathedral Choir Endowment Appeal Fund.
A light drizzle on Tuesday morning eased off as the royal couple arrived for a thanksgiving service at the cathedral, the prince in a light grey suit and the duchess in a green two-piece jacket and skirt.
After the service, they viewed a small collection of art and talked to artists.
Among them was Shelagh Popham, from Clyro, Powys, who said the prince was very interested in the fact she painted portraits of animals from a large taxidermy collection.
She said the prince was "warm and relaxed" but said he confessed he was not having a lot of time to paint.
The duchess chatted to artist Claire Eastgate, from Church Stretton, over a mutual love of chickens, which feature in many of Ms Eastgate's pieces.
After meeting the duchess, Ms Eastgate said: "My royal moment - it all comes down to a chicken."
Prince Charles last visited Brecon Cathedral in 2009, when the choir appeal had raised £500,000.
During the visit he saw the Brecon Small Picture Show, an exhibition and sale of paintings, drawings and prints from contemporary British artists to help raise money for the appeal.
Demonstrations
This year, a number of the prince's tour artists are exhibiting.
They accompanied the prince, at his request and expense, on official overseas tours as part of his patronage and support for the arts.
The Duchess of Cornwall unveiled a school's new stained glass window to mark the Queen's Diamond Jubilee during a visit to Brecon's Ysgol Penmaes.
It provides education and specialist facilities for 110 pupils with learning difficulties aged two to 19.
Later, the duchess met volunteers marking the 200th anniversary of the Monmouthshire and Brecon Canal.
The prince visited horse loggers working in woods in the area.
The royal couple began their four-day tour on Monday visiting flood victims and rescue workers in Ceredigion after seeing Prince William at work as a search and rescue helicopter pilot based at RAF Valley, Anglesey.
Earlier on Monday Prince Charles opened the £6.5m Welsh Food Centre in Conwy and attended a thanksgiving service at St Asaph Cathedral , Denbighshire, to mark it being recently crowned a city.