Neath Port Talbot Hospital doctors search fail
5 July 2012

From the section

Wales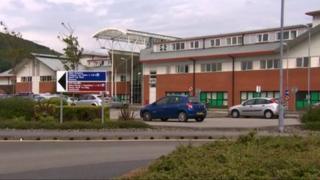 NHS managers are considering a detailed report into efforts to recruit new doctors for Neath Port Talbot Hospital's acute medical services.
The Abertawe Bro Morgannwg University Health Board plans to change its service in the autumn because of a shortage of doctors.
The report states that an international recruitment visit to Dubai only secured one suitable clinician.
The health board says it has no plans to close the hospital.
But it has insisted that the moves are necessary because the hospital's acute services will become "unsafe" by September, due to the level of doctors available.
Instead, acutely ill patients will be sent to Bridgend's Princess of Wales Hospital and Singleton Hospital in Swansea.
The health board also stated that the decision was not part of any plans to downgrade Neath Port Talbot Hospital or close it.
Managers said the hospital was in fact expanding its services, with a new centre for IVF treatment, a new urology unit, as well as becoming a centre of excellence for orthopaedic surgery.
Recruitment trip
The report being put to the health board on Thursday outlines more details of what was done to try to recruit more doctors to Neath Port Talbot's acute medical services.
It said staff visited Dubai in autumn last year, in the hope of securing new members for the medical team.
But the board noted: "While this resulted in attracting four doctors to work in Neath Port Talbot Hospital, only one proved to be experienced enough to work safely in the acute medical rota."
Managers have also been told that attempts to persuade academic research doctors to plug the gaps fell flat.
"Unfortunately, while it attracted some interest from doctors, not enough came forward," stated the board.
The report said attempts to fill the shortage with locum temporary doctors also failed, because they are already being used to bridge the gap in other areas, and would not have provided the stability the service needed.
The decision to effectively close the acute medical services at the hospital was made public on Saturday, sparking a critical response from politicians.
'No downgrade'
Neath MP, Peter Hain said at the time: "I just do not accept the reasoning.
"I just can't believe that the health board cannot find the doctors in a time of global recession.
"Is this being used as an excuse to slim down the hospital and betray the promises that were made to me as a local MP and a Welsh minister when the go-ahead for this PFI hospital was given?"
South West Wales Plaid Cymru AM Bethan Jenkins said: "There have been warning signs that all is not well at NPT Hospital.
"There is deep concern locally that this is symptomatic of an intention to downgrade the hospital."
The health board has strenuously denied that charge, adding: "The hospital is not under threat and will continue to play an important role in the health board's plans for the future."