More than 27,000 undiagnosed with dementia in Wales, charity estimates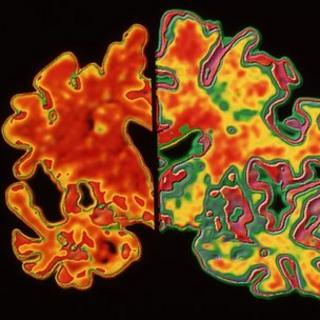 More than 27,000 people in Wales have undiagnosed dementia, Alzheimer's Society Wales estimates.
The figure emerged as an MPs' report highlights "shocking" variations in UK waiting times and says diagnostic rates are just 32% in parts of Wales.
That compares with more than 70% of people in Belfast.
Health Minister Lesley Griffiths will consider the report. Bangor professor Bob Woods said the main problem is the length of the assessment process.
The professor of clinical psychology of older people at Bangor University said: "For us I think the big issue isn't so much about the time it takes for the person to be seen by the memory clinic, it's about the length of the process of assessment.
"This varies in different areas and there are different barriers.
"Sometimes it's difficulty in arranging brain scans, sometimes it's a lack of availability of clinical psychology services to carry out the complex memory tests that are needed."
The report says Wales has the lowest dementia diagnosis rate, at 37%, compared to 61% in Northern Ireland and 54% in Scotland.
Across the UK, the report by the All-Party Parliamentary Group on Dementia (APPG) also found waiting times for memory services - a key component of the diagnosis process - varied from just a few weeks to over a year.
The average wait was reported to be at least three months.
The APPG is calling for services to be improved.
A Welsh Government spokesman said Health Minister Lesley Griffiths would consider the report's findings and respond in due course.
Sue Phelps, director of Alzheimer's Society Wales, said: "We have over 43,000 people living with dementia at the moment in Wales... 63% of those will not get a diagnosis and that equates to 27,000 people and it's not good enough."
Conservative MP Tracey Crouch, vice chair of the APPG, said some people were "incredibly scared of dementia" and may be reluctant to visit GPs.
'Pushing forward change'
She said public attitude was "very much focussed around what we see and read and quite often that's focussed on the end stages of dementia which are incredibly scary and off-putting, but actually what we do know is that people who are diagnosed early with dementia can quite often live a very fulfilling life".
Baroness Sally Greengross, chair of the APPG on Dementia, said: "We urgently need to make early diagnosis for people with dementia a priority and memory services are a key part of this.
"The prime minister has recently acknowledged the importance of improving quality of care for people with the condition, but there is still a lot of work to be done."
Jeremy Hughes, chief executive of Alzheimer's Society, said: "What we are hearing today is that many people are being let down by services that are meant to be helping them get a timely dementia diagnosis.
"Now we need MPs to get in contact with local health services and GPs to help us find out exactly what is happening at a local level across the UK and to collect the data we need which is vital for pushing forward change."