£800m Wrexham power station public exhibition starts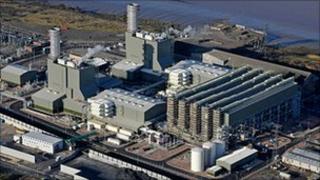 The first in a series of public exhibitions has started as part of a consultation on plans for £800m gas-fired power station in Wrexham.
Up to 1,200 construction jobs and 50 permanent posts would be created if the power station goes ahead, Wrexham Power Ltd says.
It would be built on Wrexham Industrial Estate to supply power to its businesses.
A planning application is unlikely until 2014.
Midlands-based Wrexham Power Ltd is in talks with Wrexham council, and a brochure outlining plans for the Wrexham Energy Centre is being sent to local homes.
A five-day series of exhibitions is being held between 2 - July for people to view the plans and feed back thoughts about the options for connecting the power station to the national electricity grid and gas network.
The company has said that the plans are in their "early stages" and it is to consult the community "before coming back with firmer plans next year".
Underground gas pipeline
Director Rupert Wood added: "The UK energy market is facing a challenging period with the forced closure of existing oil and coal fired power stations - under new EU emissions directives - and the closure of old nuclear power stations, which means over 20% of our total supply of power will be lost. The Wrexham Energy Centre will contribute to reducing this shortfall."
The company says low-carbon power would be created by using a mixture of compressed air and ignited gas.
Those elements in a combustion turbine could produce electricity, while the heat generated would be converted into steam to spin a second turbine.
In its consultation documents, the company said the Wrexham power station would use similar technology to the Severn Power Station at Uskmouth near Newport, which was opened last year at a cost of £600m.
The plans would include an underground gas pipeline running 3km, while one of the route options for the electricity to be transmitted to the National Grid would be to replace existing overhead power lines.
The developers, a joint venture between St Modwen and Glenfinnan Properties, claim the station would generate enough power for up to one and a quarter million homes.