Council tax benefit change warning from Welsh Local Government Association
1 July 2012

From the section

Wales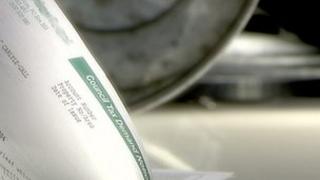 A leading figure in Welsh local government is warning a new benefit system, coming in next April, is a potential disaster.
Steve Thomas, chief executive of the Welsh Local Government Association, warned UK ministers were devolving council tax benefit to Wales in haste.
He told BBC Sunday Politics that huge cuts are attached.
Welsh Secretary Cheryl Gillan said more power was being put into the hands of local government.
The Welsh government complains it has nine months to bring in a new way of allocating the benefit, received by a quarter of all Welsh households.
It said it is unlikely to get key information need from the UK government until as late as November.
The UK government is devolving responsibility for the benefit to the Welsh government under welfare changes.
The Westminster coalition has also cut 10% of the budget for helping people pay their council tax.
It says "localising" the system will give the Welsh government the freedom to decide how best to help people.
But local government minister Carl Sargeant told AMs this week that UK ministers were leaving many questions unanswered about the council tax benefit - the biggest means-tested benefit in Wales.
"We still do not know, despite my meeting with Lord Freud and Iain Duncan Smith only last week, the amount of core funding that will be available for the scheme - whether it is a 10% reduction or a further reduction," Mr Sargeant said.
"We also do not know what the administrative burden will be on Wales in terms of taking this forward.
"We are unlikely to know that until after October or November."
Mr Thomas told the BBC's Sunday Politics programme that Welsh councils were "very worried" about council tax benefit.
"It's a potential train wreck," he said.
"It's being devolved in haste and it's coming with a very large sting in the tail, namely a cut of £24m to £30m attached to it.
"By any criteria the timescales involved are very tight, but to add a huge cut like that to a major substantial benefit really does cause us concern.
"This is a benefit which is claimed by something like 327,000 families across Wales.
"So the changes we're required to make are huge, and it doesn't feel like a responsibility being transferred to us, it feels like a liability being transferred to us."
'More power'
Welsh Secretary Cheryl Gillan said more power was being put into the hands of local government.
"I know that every step of the way the Welsh government has been kept involved in the progress on this," she said.
Mrs Gillan said it was up to the Welsh government how it implemented the new council tax benefit scheme in Wales.
"All the changes that we have been making, as far as the UK government is concerned, is so that we can target and direct benefits and help to those most in need and those that require it," she added.
Lynda Phillips, from Mountain Ash in Rhondda Cynon Taf, told the programme she feared cuts to benefits she depended on could cost her her home.
She struggles to walk, years after contracting bacterial meningitis and other life threatening diseases.
"It feels, literally, like a sword of Damocles hanging over my head, and I'm just sitting there waiting," she said.
"But I will do my best to make sure that I understand what is going on and, hopefully, to avoid any major financial issues."
'Virtual prisoner'
She said it was wrong that people dependent on benefits were being attacked by politicians and newspapers.
"Nobody that I know wants to be stuck on benefits," she said.
"I was a high earner, why on earth would I want to be sat here all day, a virtual prisoner in my own home, absolutely terrified about what the government is going to do to me?"
Mr Sargeant has previously said that picking up the cost for the cut in benefits would be equivalent to 650 fewer primary school teachers or more than 600 fewer nurses.
And research commissioned by the Welsh government, the Institute for Fiscal Studies (IFS) think-tank, found that people in Wales on low incomes will lose an average £74 a year under the changes.
Sunday Politics is broadcast on BBC One Wales at 12:00 BST on 1 July.