Dinefwr Literature Festival success despite rain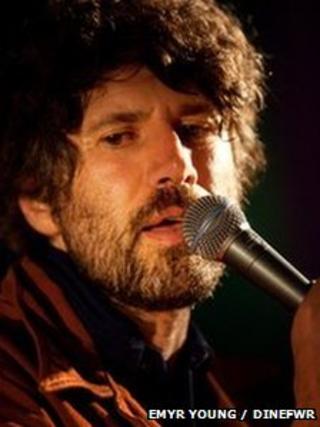 The opening night of a new literature festival in Carmarthenshire was a success, organisers say, despite heavy rain and wind closing marquees.
The Dinefwr Literature Festival was able to move events into the historic Newton House on the Dinefwr Park and Castle estate near Llandeilo.
Lleucu Siencyn, chief executive of Literature Wales, said Friday night was "fabulous".
The festival is going ahead as planned on Saturday and Sunday.
The three-day bilingual event celebrates Wales' literature and landscape, with an eclectic mix of literature, music, comedy and cinema.
Among those performing are writer Howard Marks, musicians Julian Cope and Gruff Rhys and poets Sir Andrew Motion and Gillian Clarke.
However, ahead of the opening night on Friday, two of the festival's three marquees were closed for safety reasons.
Staff managed to move the acts inside Newton House, a 17th Century house on the National Trust estate, along with the remaining marquee.
Ms Siencyn said that despite the challenging conditions, no acts had been cancelled on Friday and festival-goers had enjoyed being inside Newton House.
"It was a fabulous night and a really happy atmosphere," she said.
"Everyone was warm and dry inside Newton House, which is a beautiful setting. It was a very very successful first night. Every single event is going ahead for the rest of the weekend."
She said she felt the festival proved that literature needed "this kind of relaxed, bohemian setting" and said she hoped it would carry on for many more years.
"If we can literally weather the storm this year, we can cope with anything," she added.
On Saturday, organisers said they had secured another marquee for use and said it did not expect any problems for the rest of the event.
The festival is a collaboration between Literature Wales, the National Trust and the University of Wales, Trinity Saint David.
Other festivals guests will include award-winning writer and filmmaker Iain Sinclair; poet and broadcaster Luke Wright; novelist, poet and football devotee, Joe Dunthorne together with writer and professor of linguistics, David Crystal and Irish short-story writer Claire Keegan.
There is also entertainment for children and Doctor Who's Tardis is also at the festival.