NHS: How does Wales measure up to the rest of the UK?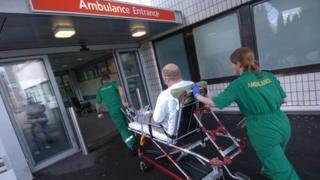 A detailed report on just how the different health services across the UK measure up has been published by the National Audit Office.
It reveals that Wales spends more per person on health care than in England.
But Wales has fewer GPs, slightly shorter life expectancies, and patients stay longer in hospital.
First Minister Carwyn Jones insisted that in tough times, the health service remains a priority.
The report is published a day after the Welsh Conservatives attacked the government over waiting times in accident and emergency units at hospitals in Wales.
A&E waiting times
They claim that freedom of information requests showed that more than 10,000 people a year are waiting longer than 12 hours in A&E departments.
The NAO report published on Friday notes that Wales has the highest level of emergency admissions in the whole of the UK.
In Wales, the A&E admission rate in 2009-2010 was 11,471 per 100,000 of the population.
That is 1,500 more than in England, and more than 3,000 above the rate for Northern Ireland.
On health spending across the UK, Wales was spending £117 per person more than in England, but some £55 per person less than in Scotland.
However, the audit report suggests that by 2014, that 6% gap in spending between England and Wales will be swallowed up.
"Wales is predicting the lowest increase per person over the four years to 2014-15 - remaining almost constant in cash terms and equating to an average annual fall of 2.3% in real terms," the report said.
So by 2014, England will pass Wales on the amount of cash it spends for every person.
The projections have been criticised by the Welsh Conservatives.
Spending gap closes
"This is yet further independent evidence of Labour's record-breaking cuts to the Welsh health budget," said their health spokesperson in the assembly, Darren Millar.
"The minister's refusal to properly invest in patient care is already heaping immense strain on frontline staff and resources, and putting services such as emergency departments at risk."
But First Minister Carwyn Jones used his weekly press briefing to defend the Labour government's record on the health service.
"Yes, times are difficult. We can only spend money according to the money we receive from Whitehall," he said.
"But we believe that in tough circumstances we have provided enough money for the NHS in Wales."
A spokesperson for Health Minister Lesley Griffiths added: "The report clearly shows that Wales spent more than England on health services per head of population.
"NHS bodies in Wales broke even last year.
"In England, 22 of them are on the verge of financial collapse - despite the Tories' false promise of ring-fencing spending. This has proven to have been a complete myth."
The report highlights continuing differences in life-expectancy throughout the UK, with the highest in south-east England and the lowest in north-west England.
The average life-expectancy for Welsh men now stands at 77.6 years, in England it is 78.6 years, while Northern Ireland is 77.1 years, with Scotland at 75.9 years.
On hospital waiting times, the audit office said Scotland and England performed better than Wales and Northern Ireland.
For example, patients waiting for certain endoscope procedures could wait three times longer in Wales than in England.
And while 97% of people arriving in A&E in England are seen within four hours, it is only 88% in Wales.
On average, a Welsh hospital patient will also spend two days more on the ward than in England, and a day longer than in Scotland or Northern Ireland.
Beating infections
The report also found that Wales had fewer GPs per head of the population than in England or Scotland - at 65 per 100,000.
However, the figures also show Welsh GPs will see on average five more patients a week than in England, and 25 more than their counterparts in Scotland.
The report also shows that Wales is leading the way in fighting hospital acquired infections.
It has the lowest rate in the UK at 4.3% - a full 2.1% better than in England.
But in its conclusions, the audit office highlights that differences in how each nation's health services are organised and operate, and how and what data is collected, makes it difficult for meaningful comparisons to be made.