Wye salmon by-law on landing fish welcomed
29 June 2012

From the section

Wales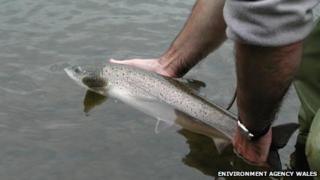 A ban on landing salmon from the river Wye in both Wales and England has been called "better late than never" by the head of the river's watchdog.
The by-law means anglers must return catches of salmon and sea trout or face a substantial fine.
Environment Agency Wales said the rule would help more fish to survive and boost the declining population.
Dr Stephen Marsh-Smith, of the Wye and Usk Foundation, said salmon numbers had been recovering for 10 years.
The by-law approved this week by the Welsh government and Defra could be in place for up to 10 years.
Environment Agency Wales' Pete Gough said: "The majority of anglers are very responsible and do release the salmon and sea trout they catch.
"However, there are some that continue to kill the fish before they have a chance to spawn upstream."
Began to plummet
The agency said with its main partner, the Wye and Usk Foundation, it had built fish passes and removed barriers to improve access for migratory fish and improve water quality.
The new by-law follows on from a ban on landing catches which ended this month
It aims to address the collapse in fish stocks on the Wye, formerly one of the best salmon fishing rivers in Europe, said Dr Marsh-Smith.
Dr Marsh-Smith, Wye and Usk Foundation director, said its work with anglers had already seen fish numbers rise steadily since the species' lowest population figures were recorded in 2002.
Salmon numbers in the river began to plummet in the mid 1970s, he said.
"It's never been a great sea trout river but if you examine the way salmon was falling, they would have been extinct by 2005.
"This year is very much a recovery year. We are seeing encouraging numbers of very big fish."
Dr Marsh-Smith said the foundation had proposed the catch ban in 1996.
"If we had done this 10 years ago, we might be looking at removing the restriction now."
However, he welcomed the by-law as a way of being fairer to the 80% of anglers who already safely return their catch to the river.
"If you get a situation where 80% comply and 20% don't, then it's very unfair on those who do comply."
He estimated that the angling industry on the Wye generates about £5m a year, half of what he said it should be.
Natural beauty
The Wye, the fifth-longest river in the UK, was voted the public's favourite river in England and Wales in 2010.
Running some 153 miles (246km) from its source on the slopes of Plynlimon to the Severn Estuary near Chepstow, Monmouthshire, it winds its way through or past Rhayader, Builth Wells, Hay-on-Wye, Hereford, Ross-on-Wye, Symonds Yat, Monmouth and Tintern.
The river is a site of special scientific interest (SSI)and much of the lower Wye valley is designated an area of outstanding natural beauty.