Marine conservation zones: Restart consultation - expert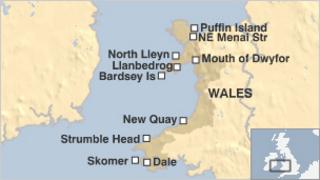 Plans for new marine conservation zones off Wales should be restarted, says an expert who has helped set up similar reserves across the world.
Dr Dylan Evans, whose experience includes marine parks in Tanzania and the Seychelles, says they cannot work without support from local communities.
Environment Minister John Griffiths says the zones would protect wildlife, and the plans are at an early stage.
But campaigners say they will harm the fishing and tourism industries.
The Welsh government's plans to create three or four highly protected areas in Welsh seas have met protests and complaints of a lack of consultation by many living near some of the 10 potential sites.
'Long consultation process'
Dr Evans, who now owns Anglesey Sea Zoo and research company Seiont, told BBC Radio Cymru's Manylu programme that he did not think the scheme in Wales would work.
He said: "I would like them to work but I can't see how they can work without the support of the local community and as I see it now, the support isn't there.
"I would start the process again and connect from the bottom up."
The highly protected status in these areas would put a stop to both commercial and recreational fishing as well as other damaging activities such as dredging or renewable energy projects.
Boats would be allowed to sail through the zones but not anchor in them, as that would damage the sea bed.
Such restrictions have led to concerns in communities close to the 10 potential sites that a marine reserve on their doorstep would damage the local economy by putting fishermen out of business and deterring tourists.
The Welsh government, which is being advised by the Countryside Council for Wales, is in the middle of a three-month consultation process on an initial list of ten areas it believes are suitable for marine conservation zones.
Mr Griffiths told Manylu that this is only the start of a long consultation process and that they want to hear the views of all those potentially affected.
Four of those sites are on the Llyn Peninsula and three are off the Pembrokeshire coast. Two more are off Anglesey and the final one is in Cardigan Bay.
Two further rounds of consultation will reduce the list of ten down to three or four final sites that will be spread around the Welsh coast.
The current consultation closes on 31 July.
Manylu is on BBC Radio Cymru at 18:03 BST on Monday, 25 June.