Welsh secretary Cheryl Gillan visits flood-hit Ceredigion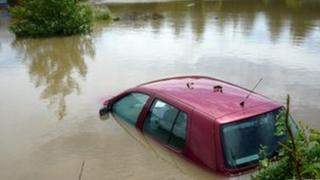 The Welsh secretary has visited areas affected by severe flooding in mid Wales and praised the clean-up efforts.
Cheryl Gillan met communities in Ceredigion two weeks after homes and businesses were devastated by floods.
Earlier this week, people affected were invited to Environment Agency Wales drop-in advice surgeries about the floods.
Parts of Ceredigion were hit by 5ft (1.5m) of flood water and about 1,000 people had to leave their homes.
Aberystwyth and nearby villages such as Talybont, Dol-y-Bont and Llandre were badly affected and some families say they may be out of their homes for up to nine months while the damage is repaired.
Mrs Gillan was keen to visit the county after she and Prime Minister David Cameron praised the "remarkable work" that was done by the emergency services that quickly came to the aid of residents and tourists affected by the floods.
On Friday Mrs Gillan and Ceredigion MP Mark Williams visited a surgery and retail park at Parc Y Llyn before travelling to Borth, Dol-y-bont and Talybont where the clean-up operation was fully under way.
They met with residents who were affected by the flash floods on Saturday, 9 June, before visiting Cambrian Printers in Llanbadarn which was also badly affected by the waters.
"Flooding is always a traumatic experience for anyone whose home or business is affected in such a devastating way," Mrs Gillan said.
"I cannot imagine the trauma suffered by people who had to be rescued from the waters, and who now have a significant clean-up operation ahead of them.
"I've been eager to visit the area to thank all those involved in the rescue efforts and to see the work being done to restore the affected communities.
"It may take some time, but I am confident that residents are receiving all the support they need to do so."
Benefit festival
Ceredigion is on flood alert again as more heavy rain is forecast for the area this weekend.
A Met Office heavy rain warning remains in place for north and west Wales.
Meanwhile, a fundraising festival will be held on Saturday to raise money for those affected by the floods in and around Aberystwyth.
Bands, musicians, a fashion show and other entertainment will be held from midday until midnight at Aberystwyth University Students Union in aid of the Flood Appeal Fund.