Council spend on elderly varies up to £3,000 in Wales
13 June 2012

From the section

Wales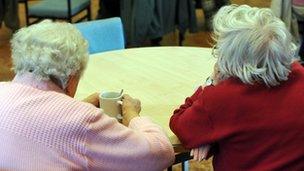 Council spending on social services for older people in Wales can vary by up to £3,000 per person, according to local authority figures.
The older people's commissioner for Wales is calling for greater consistency in the way Wales' 22 local authorities deliver their social care.
It comes as an alliance of 20 elderly care organisations say they will check ministers' pledges to improve services.
The Welsh government said it would work with a range of partners on the issue.
Figures obtained by a BBC Wales Freedom of Information request suggest there are big differences in the funding per head of social services for people aged over 65.
The results, based on figures from 14 councils, do not include health spending or deprivation statistics.
They compared how much each authority spent delivering older people's social services and how many people they helped.
The results suggest councils such as Cardiff can spend up to £3,000 more per elderly client than others such as Torfaen.
The figures do not include health spending, although some councils provide services for elderly people that in other areas are provided by the NHS.
Older people's commissioner Sarah Rochira said the spending-per-head figures were only part of the picture as they did not reflect variations in demand for services or the increased costs of providing services in certain areas, for example rural areas or districts of particularly high deprivation.
She has already voiced concerns about elderly people in Wales facing a so-called postcode lottery with social services.
She said there was support for simplifying eligibility criteria and the removal of differences between local authorities.
She said: "It shows the importance of engaging with older people on this agenda to establish what services they want and how satisfied they are with what is being delivered - this would give more meaningful outcomes by which to compare social services across Wales."
She told BBC Radio Wales it was difficult to make judgements on "headline figures," but added there are "huge issues facing us within Wales, as there are across the UK, in the way we deliver social care services in the future, and that's partly because we've got more older people in Wales".
She said there were "growing inconsistencies across Wales in access to services and support, not just with geographic areas but across groups of older people".
She acknowledged there was "good work" across Wales, but said she wanted some key areas focussed on, including "standardised access criteria... it means ensuring that it doesn't matter where you live as to whether you receive services or not".
'Grim picture'
Her call comes as a conference begins in Cardiff looking at whether Wales is a good place to grow old.
It is organised by Age Alliance Wales, which represent 20 different voluntary organisations which help older people.
The alliance's report says it pains of "grim picture" of life for Wales' 500,000-strong elderly population, with more than 100,000 living in poverty, as defined by the Department of Work and Pensions.
Acting chair Angela Roberts said: "Too many older people in Wales face lives in poverty, with inadequate social care and limited social engagement.
"Age Alliance Wales calls on the Welsh government, local authorities, health boards and other agencies to take urgent action to fulfil their pledges to equality and social justice for older people."
A Welsh Government spokesperson said: "We are committed to addressing the needs of older people in Wales and will continue to work with partners including Age Alliance to move towards a fair and inclusive society.
"So we welcome this report and will take account of its findings as part of the development of phase three of the Strategy for Older People in Wales."