School inset days are cut to five in Wales
30 May 2012

From the section

Wales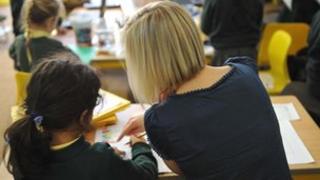 Schools in Wales will not be able to take any additional inset days in the next academic year, Education Minister Leighton Andrews has said.
Schools have to set aside five days for training each year, with most lessons cancelled for pupils on those days.
In recent years, teachers have been allowed to take extra inset days where they deem it necessary.
But now Mr Andrews said the five days allowed within teachers' contracts "should be sufficient".
In a ministerial statement, Mr Andrews said one of the five training days will have to focus on numeracy and literacy work.
"Regard should be given to how professional development activities reflect the need to embed literacy and numeracy skills in all aspects of education provision," he said.
"I am aware that this already reflects the approach taken by many schools and I am keen for schools to share effective approaches to professional development activities that focus on literacy and numeracy.
"I will be considering how best practice in this respect can be gathered so that it can be shared more widely between schools throughout Wales."
Sally Russell, co-founder of parents' website netmums.com, said: "It's certainly something that parents would welcome.
"I think we all want our teachers to be as well-trained as possible, but at the same time it does tend to cause problems for parents who perhaps aren't able to take time off work very easily.
"It can be quite awkward."