Olympic torch relay: Aberystwyth concert marks end of stage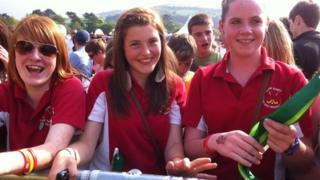 Cheering crowds in a mostly sun-kissed Aberystwyth greeted the end of the Olympic torch's third day in Wales.
The final torch bearer, Kyle Thomson, 16, lit the Olympic cauldron at the celebration concert in Vicarage Fields.
Almost 10,000 people had watched two hours of free entertainment featuring local children, street dancers Twist and Pulse and rock band Kids In Glass Houses, among others.
Oorganisers said almost half the town's population were there.
Kids In Glass Houses front man Aled Phillips told BBC Wales it was a privilege to be involved.
The band are performing at six of the torch relay concerts and will be in Bangor on Monday.
Barbara Mann, the mother of torch bearer Kyle said she was extremely proud.
"To me it's a reward because he is such a nice person and this is a way of saying what a lovely boy he is," she said.
Kyle had earlier said he was very nervous but really excited to have been chosen.
The 100 secondary pupils performing at the event were chosen from schools around Ceredigion.
They formed a rock and classical band and a choir, and used storytellers to celebrate the history of Ceredigion.
Teacher Janice Rees, of Ysgol Gyfun Aberaeron, said the relay and concert helped people in Wales to feel part of the Olympics.
The torch convoy stays in Aberystwyth overnight before starting at the town's cliff top railway just before 08:00 BST on Monday.