Truancy crackdown in eastern Cardiff city streets
24 May 2012

From the section

Wales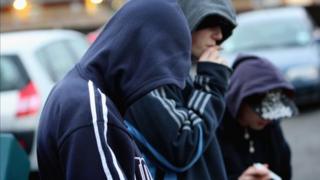 Police and council officers knocked the doors of more than 100 children playing truant from schools in Cardiff.
The joint operation saw them stopping youngsters they found on the street and visiting dozens of homes.
Pc Sara Hughes said: "Truancy has been identified as an issue in this area of Cardiff which might be contributing to anti-social behaviour.
In February, Education Minister Leighton Andrews said there would be "zero tolerance" of truancy in future.
The crackdown by Cardiff council and South Wales Police on 16 May saw teams speak to 88 families about why a youngster was away from school.
Police and education welfare officers called at a further 51 homes but there was no reply.
The teams spent the first two hours on the streets of Rumney, Llanrumney, Trowbridge and St Mellons stopping a total of 24 children, including three of primary school age, to find out why they were absent from school.
The initiate focused on three high schools and 13 primary schools.
Councillor Julia Magill, Cardiff council's cabinet member for Education and Lifelong Learning said: "It's essential that joint operations like this take place with the police to raise awareness about truancy and to stress to parents the importance of their role in ensuring their children go to school.
"Continual absenteeism results in children missing out on learning and potentially damages the opportunities in life they might otherwise have.
"Ultimately parents who choose not to co-operate in tackling truanting can be faced with fines or even imprisonment. We want to prevent this from happening, tackling the problem long before it gets to this stage."
Similar operations
School community police officer PC Hughes, added: "There is evidence to suggest that while truanting from school, children either commit crime or are vulnerable to becoming victims of crime. They are also losing educational opportunities."
The local authority said similar operations were planned across the city over the coming months.
In February, Education Minister Leighton Andrews said he had put a new emphasis on behaviour and attendance after a report claimed "massive shortages" of education welfare officers could undermine efforts by schools in Wales to tackle truancy.
He said that Wales had had the worst school attendance levels in the UK for years.