Olympic torch: Traffic disruption warning in Wales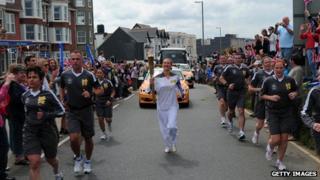 Residents and businesses along the route of the Olympic torch relay in Wales are being warned to expect significant disruption.
Rolling road closures will be in place and big crowds are expected along parts of the route.
Bus companies are warning passengers to check before travelling because services may be disrupted.
The torch arrives in Monmouthshire on Friday and travels around Wales before heading back into England on 30 May.
An average of 115 torch bearers a day will carry the flame during its journey before it arrives at the Olympic Stadium on 27 July for the opening ceremony of the games.
Organisers say 95% of the country's population should be within one hour of the route.
The torch relay arrives in Wales on Friday morning, heading into Monmouth, before visiting Abergavenny, Brynmawr, Blaenavon, Abersychan, Pontypool, Newport and ending the day in Cardiff.
The torch will travel around Wales until Wednesday, 30 May taking in locations including Swansea, Aberystwyth, Bangor, Anglesey, Llandudno, Wrexham and Welshpool.
Motorists are being warned they may need to find alternative routes and allow extra time for journeys due to road closures.
Monmouthshire council said road closure notices had been put up, along with posters showing how people can get to see the torch.
Some roads in Monmouth town centre will be shut from 07:00 to 16:00 BST, while Raglan and Abergavenny will also be affected.
A council spokesperson said: "We're not looking at it from the point of view of disruption. It's an opportunity for the community itself, with potentially thousands of people watching and stood on the street outside businesses, ready to buy products and services."
Newport council said there would be some disruption from when the torch enters the city at 15:45 until it leaves at 16:45 BST.
Temporary road closures will be in place and roads will be closed for about 30 minutes.
Insp Wayne Yandle of Gwent Police advised motorists to allow extra time for any journeys around the time the torch passes through their community.
"We are very conscious that the Olympic torch relay is a celebration of sport, and we will be keeping our policing style friendly and discreet, whilst having enough resources available to deal with any issues," he said.
Cardiff city centre will be closed to traffic from 17:30 to 19:00 on Friday, but the closure could happen any time from 16:00 depending on the number of pedestrians in the area.
A free, ticketed concert is taking place at Cooper's Field as part of the torch relay celebrations.
Cardiff council said it would try to lift road closures as soon as possible but if crowds remained, closures may stay in place to ensure pedestrian safety.
Cardiff Bus said it would be making changes to its services between 17:30 - 20:00.
Swansea council said some city centre roads would be closed on Saturday between 16:00 and 19:00.
The council added that roads would be reopened as soon as possible once barriers and signs had been removed, roads cleaned and crowds dispersed.
Drivers are asked to avoid "hotspot areas" if possible, and plan ahead and allow more time if journeys are absolutely essential.
Gwynedd council said there would be road closures on Monday, 28 May as the torch makes its way from Dolgellau to Bangor.
Dafydd Wyn Williams, the council's chief engineer of transportation and street care, said: "We would advise residents who are travelling on the same route as the torch to leave extra time for their journey.
"Those who are travelling to see the flame should try and get to the location an hour before the event."
Anglesey council is warning people living or travelling around Menai Bridge and Beaumaris of road closures and possible delays on the morning of Tuesday, 29 May.
Anglesey's head of highways Dewi Williams said: "We've looked closely at the traffic management plans [and] consulted with the emergency services and local members of each ward affected to keep any disruption to a minimum."
Large crowds are expected, with the flame going aboard the Beaumaris RNLI lifeboat and ferried along the Menai Strait before being carried across the suspension bridge.
The London Organising Committee of the Olympic and Paralympic Games (Locog) said the torch convoy featured a crew of around 350 people each day including Locog staff, the Metropolitan Police torch security team, host police forces and host local authorities.
There are 14 main vehicles involved such as the pilot car, torch bearer drop-off and pick-up shuttle vehicles, media vehicle, command car and security vehicles.