Smoking ban: Wales 'needs fair approach on punishment'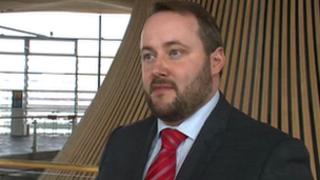 Changes are needed to the way those breaking the smoking ban are punished, says a leading Conservative AM.
BBC Wales research suggests the chances of falling foul of smoking laws - introduced in Wales in 2007 - vary greatly from place to place.
Four councils have not issued a single fixed penalty, while two others chalked up 300 between them.
Darren Millar, the Tory health spokesman, stressed the need for a more consistent and fair approach.
Figures from Wales' 22 local authorities show large disparities in the way councils have penalised law-breakers since the ban.
More than 740 people have been penalised for smoking in enclosed public places over the last five years.
But only a handful of councils account for the vast majority of those cases.
The Welsh government has been asked to comment on the figures.
'Too draconian'
Conwy has issued the most fixed penalties at 155 and prosecuted seven. In contrast, Blaenau Gwent, Gwynedd, Monmouthshire or the Vale of Glamorgan have issued no penalties or brought a single prosecution.
Not far behind Conwy is Newport, with 144 fixed penalties and 26 prosecutions, while Swansea has had 72 fixed penalties with 14 prosecutions.
Those caught flouting the ban can face a £50 fixed penalty, or be fined up to £200 if convicted.
Managers of premises who allow smoking can be fined up to £2,500, and there are also fines for premises not displaying no smoking signs.
Mr Millar, who represents some constituents in the Conwy council area, said he was surprised at the different approaches.
He said there had been concerns by some in Conwy that the council was being "too draconian" in its approach and was penalising people too quickly over issues such as a no smoking sign not being displayed.
But he said that equally, those councils who had taken a more informal approach and had not actually issued any fines were not helping spread the anti-smoking message.
"I cannot imagine that every business and premises in those areas have complied with the ban," he said.
"When regulations are in place they have to be followed and it's important to get the message out there that smoking is bad for health and the law is being taken seriously.
"There needs to be a balanced approach that is consistent across Wales and I hope all local authorities look at this evidence and consider whether they need to change their approach."
Conwy council said it would "only resort to prosecution rather than issue a fixed penalty fine if there was a deliberate and continuous breach of the legislation by an individual or business".
"We would also prosecute where the fixed penalty fine is not paid," said a spokesperson.
The authority has a joint team with Denbighshire council responsible for licensing enforcement, which has also led to an increase in the number of fixed penalties issued by Denbighshire.
Conwy added: "By having a presence and willingness to use the legislative tools provided, there is less chance of complacency and it helps achieve a smoke-free environment.
Swansea council said "formal enforcement" was only carried out as a "last resort".
"In these instances there will have been previous dialogue including verbal advice and written warnings before enforcement action was taken," said a spokesperson.
Newport council said it had been proactive in its enforcement of the smoking ban, in particular identifying and targeting specific problem areas.
Alun Billinghurst, head of public protection for Vale of Glamorgan, defended the authorities lack of any recorded action.
"Premises are checked proactively for compliance during other regulatory enforcement inspections and we also provide a reactive response to complaints from the public," he said.
"To date we have not needed to take any prosecutions and have received very few complaints all of which have been successfully resolved through informal correspondence."
Blaenau Gwent council said it had found no evidence of smoking on the "numerous multi-agency visits carried out".
"The law is being adhered to and the council is very pleased with the responsible and positive way both businesses and the public have responded to the legislation," a statement added.
Gwynedd council said: "Each complaint we have received about individuals smoking in public places has been responded to in an informal way and, so far, we have received full cooperation every time."
Monmouthshire council said the authority was enforcing the legislation but had taken a light touch approach. A spokesman said the aim of the legislation was to stop smoking in enclosed public places and it could be done in a variety of ways.
The BBC Wales figures also show taxi drivers appear to be particularly at risk of prosecution with several cases relating to them smoking in their cabs - and one for smoking in a taxi office.
Taxi driver prosecutions have taken place in Powys, Rhondda Cynon Taf, Merthyr Tydfil, Pontypool and Cwmbran.
More than £21,000 has been paid out in fixed penalties around Wales since 2007.
Many councils put the money back into enforcement of the smoking ban, although Wrexham puts funds towards public health education.
Caerphilly and Neath Port Talbot say they pass the money on to the Welsh government or Welsh assembly.