Question Time: Hain says Labour should not fear EU vote
18 May 2012

From the section

Wales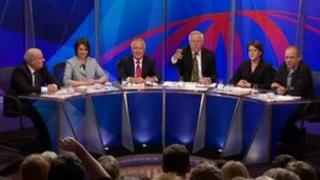 Labour should not be frightened of a referendum on the UK's membership of the EU, Peter Hain has said.
However, the Neath MP said the time for such a vote was not now because of the Eurozone crisis.
Mr Hain, who stood down from the shadow cabinet this week, said he wanted the UK to stay in the EU because it had brought peace and stability.
He spoke on BBC's Question Time in Cardiff with Plaid Cymru leader Leanne Wood and UK minister Maria Miller.
Former Welsh Secretary Mr Hain, and Ms Wood, attacked the UK government's austerity measures.
However, Disability Minister Ms Miller said that the coalition had restored Britain's credibility in the money markets by tackling the deficit.
She pointed to an improvement in unemployment as an example that the UK was seeing "some signs of those tough decisions starting to pay dividends for us".
Now was not the time to take on more debt, she said.
On Wednesday, Prime Minister David Cameron warned the Eurozone it "either has to make up or it is looking at a potential break-up".
However, Ms Miller said the question of EU membership was for another time.
The Labour MP appointed by Ed Miliband to lead the party's policy review, Jon Cruddas, is in favour of a referendum on the UK's EU membership.
EU membership
Mr Hain said: "I think the way things are going I think people in Britain probably want to make up their minds about whether to stay in Europe or not.
"I don't think we should be frightened about giving people a vote."
He said the "real choice" was whether people wanted the austerity measures "being rammed down the throats of people in Britain".
He said there should not be a referendum for the "foreseeable future".
Ms Wood, elected Plaid leader in March, said: "It seems clear to me that people across Europe now are voting against austerity measures.
"People are at breaking point. They can take no more."
The election of Francois Hollande showed voters "want to do things differently", she said.
Asked if she supported a French-style 75% top rate of income tax proposal, she said: "I think people who are rich should pay much more into the pot than they pay now."