Under-fire Cardiff Airport starts search for new managing director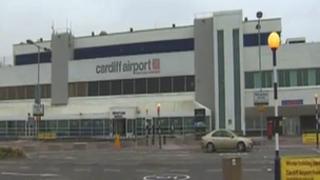 Under-fire Cardiff Airport has appointed a specialist recruitment agency to find a new boss after the departure of its managing director.
The airport's owners say they want to find suitable candidates to take the business forward after Patrick Duffy left the job after four years.
An industry expert said the appointment would be key to the airport's future.
It has seen passenger numbers fall 800,000 since its peak of two million in 2007.
First minister Carwyn Jones has called on Spanish owners Abertis to put the airport up for sale if it is not going to go ahead with a postponed £26m investment.
He said the airport gave a bad impression of Wales while Abertis said it was not planning to sell but was open to offers.
Mr Duffy left his post following more criticism of the airport's performance by Mr Jones on BBC Wales' Week In Week Out programme this week.
No further details were given about how and why Mr Duffy, who joined the airport in 2008, left.
Mike Snelgrove, a business strategist from Cardiff Metropolitan University, said: "I hope that change is a good change and an opportunity for a change in thinking.
"There still remains a good management team there who can be taken forward with the right direction," he added.
Cardiff Airport said it would not be commenting further about Mr Duffy's departure, adding: "With regards to the replacement process, we are working with a specialist recruitment agency to identify candidates."
Peter Phillips, chairman of Wales Air Network and a former head of marketing and communications at Cardiff Airport, said someone's "head had to roll" at the airport due to media and political derision.
"The departure may suggest a change in policy," he said.
Potential buyers
The Welsh government has previously offered to fund £5m towards an investment programme at the airport.
The first minister confirmed to Week In Week Out that he had been in talks with potential buyers interested in a public-private partnership.
The news of Mr Duffy's departure was followed by the announcement of the appointment of a new operations director, former RAF group captain Debra Barber.
She joined the air force in 1984, with 10 years experience as an air traffic controller before retiring as air traffic management force commander, responsible for all RAF air traffic units in the UK and around the world.
Meanwhile, there have been calls for the airport to refocus its business following a turbulent week.