Wales Coast Path officially opens with events in Cardiff, Aberystwyth and Flint
5 May 2012

From the section

Wales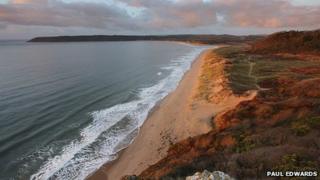 The world's first coastal path to cover an entire country has been officially opened in Wales.
Stretching from the mouth of the River Dee in Flintshire in the north to Chepstow in south, the Wales Coast Path covers 870 miles (1,400km).
The network also links into the Offa's Dyke Path - creating a 1,030 mile (1660km) route around the whole of Wales.
Three opening events have been held in Cardiff, Aberystwyth and Flint.
It marks the pinnacle of a five-year project to link up the network of paths, backed by the Welsh government, the Countryside Council for Wales (CCW), landowners and local authorities.
At a ceremony in Cardiff Bay, Environment Minister John Griffiths described the new path as "a huge asset for Wales".
"This has been a five-year project and is an example of how sustainability is an underlying principle of everything we do," said Mr Griffiths.
"The path opens just before the world's eyes will be on the UK for the Olympics. We hope many visitors coming to London for the Games will take time to visit Wales and its coast.
Nature reserves
"The path will provide a real boost to local economies around our coastline."
It has cost about £2m a year to fund, with £4m of the cash coming from European grants.
The coastal network takes in two national parks, three areas of outstanding beauty, and 11 nature reserves.
As part of the celebrations Ramblers Cymru are organising the ' Big Welsh Coastal Walk ' and are putting on 100 separate walks to ensure that the length of the path is covered over the opening weekend.
At Flint, the network was opened by the Local Government Minister and Alyn and Deeside AM, Carl Sargeant, and BBC Wales' Sian Lloyd.
"The Wales Coastal Path is more than a tourist attraction; it is a feature that truly puts Wales on the global map," he said.
Landowners' criticism
But the network has faced criticism from some landowners who claim the path will damage their businesses.
Lyn Jenkins, who runs the Cardigan Island Farm Park, has spent tens of thousands of pounds opposing the project and access to his land.
"This is private land. There has never been a public path here and we've been here since 1881 on this farm and there has never been a right of way," said Mr Jenkins.
"They are ruining our business. We've invested £700,000 in the business. It totally finishes our business, it is letting everybody in free."
But Huwel Manly from CCW insisted that the majority of landowners welcomed the new coastal path.
"A lot of farms have now diversified into tourism business. They are looking at the path as an opportunity to help them to get greater income from the farm business through tourism enterprise," he said.
"I think that while there are one or two who have concerns, on the whole I think it's a real positive move."