Welsh Blood Service in donor plea as stocks of some supplies fall
7 May 2012

From the section

Wales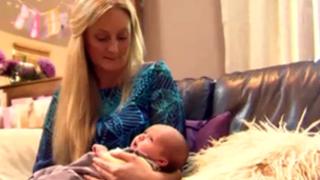 Blood donors are being urged to come forward by officials who say there are just four days worth of some supplies left in Wales.
The Welsh Blood Service says the recent spate of bank holiday weekends has seen its reserves of O Rhesus negative blood stocks dip.
It said that only two days worth of the rarest blood-type, AB negative, remain.
The service said it would like to see both current and new donors come forward in the next few days.
"Over the holidays, a lot of our donors are often thinking about other things, and might skip a donation session," said Tracy Sampson, of the service.
"That is what we have seen over the Easter period. Donors haven't come forward. Then we are straight into another bank holiday weekend.
"The thing is, hospitals don't take a holiday, and we still need blood donations to make sure patients can get the treatment they need.
"So we would really encourage old and new donors to come forward. There has never been a better time to think about it."
The Welsh Blood Service needs about 400 donations a day to meet the demands of the health service, for emergency operations, blood transfusions, and organ transplants.
The plight of those who need urgent blood donations has been highlighted by Sara Palmer, a new mother from Ruthin, Denbighshire.
She needed more than 50 units of blood after giving birth to her baby daughter Isabella. She had undergone an emergency Caesarean section, but would not stop bleeding.
Surgeons discovered she had a benign tumour on her liver, and she was taken to a specialist centre in Liverpool where medical teams battled to save her life.
Blood campaign
"They pumped 56 units (of blood) into me, because my body wouldn't take it - it just kept bleeding," said Sara, who is now back home with her husband Joe, and two-month old Bella.
"There was one nurse in particular who ran with the blood, and organised all the transport of the blood from Liverpool, Chester and Wrexham.
"Very luckily, I am a very common blood type - if I was a rare type, I don't think I would be here."
After her ordeal, family and friends set up a campaign to raise the issue of blood donation, firstly on Facebook, and later on its own website.
Blood4Bella is now a nationwide charity to raise awareness, asking people to donate blood, and also raising money for the Betsi Cadwaladr NHS Trust and the NHS Blood and Transplant Service.
"People were texting me and phoning me, and asking what they could do," said husband, Joe.
"I said, what I would really love people to do is replace the blood that Sara's kind of taken from the NHS.
"That was as much as I expecting from the campaign really, but even just with friends and family it has gone way beyond what we expected."
For more information on donating blood, contact the Welsh Blood Service on 0800 252266 or via its website at: www.welsh-blood.org.uk