Pair jailed for 114 burglaries and £300,000 haul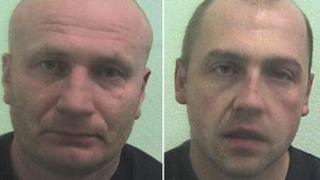 Two men have been jailed for seven years each for a total of 114 burglaries across Wales and England over a 14 month period.
Mold Crown Court heard how Krzyszstof Karmaciuk, 35, and Ryszard Elert, 37, stole £318,000 in money and jewellery.
Judge Niclas Parry called it "serious, organised gang crime".
He praised the cooperation of six police forces involved to catch the men under Operation Yap.
The two defendants are Polish and will be deported after they serve their sentences.
They were both painters and decorators who turned to crime when work dried up so that they could continue to send money home to their families in Poland.
Judge Parry said that one victim's family had been involved with, and witnessed, the bravery of Polish citizens when fighting alongside them in World War II.
"You on the other hand shame those people," he said.
The pair admitted conspiracy to burgle; Karmaciuk admitted 110 burglaries and Elert admitted 67 between October 2010 and December 2011.
"Good quality" houses in rural areas were targeted and the men were linked by their fingerprints and DNA.
They operated from Wiltshire through the Gwent, Dyfed-Powys, North Wales, West Mercia and Cheshire police force areas, the court heard.
Stolen property amounted to £318,000: £51,000 in Gwent; £54,500 in Dyfed Powys; £5,000 in Cheshire; £130,000 in North Wales; and £77,000 in West Mercia.
The Wiltshire burglary where a householder was attacked showed they were clearly prepared to use violence if necessary to pursue their aims.
"You may well have sought to avoid confrontation and violence," said Judge Parry.
"But the reality is that in each of those burglaries confrontation and violence were a real possibility," he said.
All property in Wiltshire had been recovered.
In North Wales, more than 30 empty homess were targeted along the A55 corridor from Ewloe, through Holywell, Denbigh, Abergele, Bangor to Caernarfon.
In Dyfed-Powys, there were break-ins in Cardigan, Aberaeron, Aberystwyth, south Pembrokeshire, Abermule, Welshpool, Newtown and Montgomery.
Giles Hayes, defending, said Karmaciuk had led a law abiding life in the UK since his arrival in 1994. But his health deteriorated, his relationship came to an end and that was a turning point in his life.
Andrew Green, defending Elert, said that when work dried up he was tempted to turn to crime and he committed many offences.
Both were said to be very sorry when they realised the effect their offences had on their victims.
The operation was headed by Dyfed-Powys Police who said the amount of stolen property did not take into account the "emotional value" attached to what was taken or the impact on the victims.
"With their arrest and now conviction we hope to send a clear signal to the community that officers will do everything they can to catch criminals and ensure our force remains a low crime area," said Det Insp Diane Davies, who led the inquiry.
A third man believed to have been involved managed to escape and was believed to have fled to Poland the following day.
Investigations are continuing involving a fourth suspected gang member.
A proceeds of crime hearing has been adjourned as Dyfed Powys Police are pursuing financial assets identified in Poland.