Animal cruelty convictions in Wales rise 31%, says RSPCA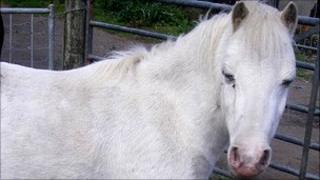 The number of people who were convicted of animal cruelty in Wales increased by more than a third last year, says the RSPCA.
Among the convictions was a man who was jailed after animals, including a pony and goats, were kept in a cellar in the south Wales valleys.
The RSPCA says across the UK it is at "breaking point" due to the number of animals being referred to the charity.
But it pledged zero tolerance against anyone causing animals to suffer.
A man was jailed for 12 weeks at Pontypridd Magistrates' Court and banned from keeping animals for life after his conviction last June.
His wife was also convicted of animal cruelty, which included keeping a pony and goats in the cellar of a former pub in Gilfach Goch.
Another court case highlighted by the charity was a dog owner in the Vale of Glamorgan fined £2,000 after becoming the first to be prosecuted in Britain for using an illegal electric shock collar.
The man admitted using an illegal electric shock collar in April last year to stop his border collie jumping over a wall.
But he denied he had been warned the collar was illegal.
"The RSPCA faces a crisis that is stretching us to breaking point," said RSPCA chief executive Gavin Grant.
"We show zero tolerance to animal abusers. Anyone causing animals pain for profit or pleasure will be tracked down and prosecuted.
'Getting justice'
"We need the courts and councils, police and people who care to join us in standing up and getting justice for Wales' abused animals."
The figures show:
A 31% rise in the number of people convicted for cruelty and neglect, with 84 cases in Wales in 2011;
A 39% rise in the number of convictions secured at magistrates' courts - 239 last year
More than 29,000 complaints of animal cruelty were investigated by the RSPCA in Wales in 2010, according to figures published last May.
Gethin Russell Jones from the RSPCA Wales said the surge "could be partly economic" and that people are now more aware of animals being abused or neglected.
He said the Animal Welfare Act offered "more scope now, not just to prosecute but to caution, to warn and to educate".
Sally Case, head of society prosecutions at the RSPCA, said: "The RSPCA strives to keep animals with their owners wherever possible and offers advice on improving their welfare.
"Overwhelmingly this advice is followed, but where it isn't, or where someone has already harmed an animal, there has to be a way of ensuring that animals are not left to suffer and the RSPCA is the charity people turn to, and we are struggling to continue providing this service.
"Of course we work closely with governmental and other charitable organisations, but we are the main organisation which prosecutes those who abuse animals and which can prevent cruelty to animals.
"We can't do this without the help and support of the public and we need it now more than ever."