More teenagers staying in education, says Careers Wales
23 April 2012

From the section

Wales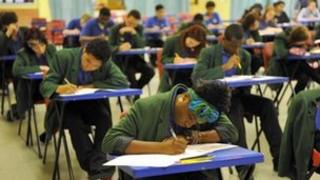 More teenagers in Wales are choosing to stay on in full-time education, according to latest figures.
A survey of 65,450 high school pupils shows 85.1% continued their education beyond Year 11 in 2011, compared with 82.8% in 2010.
Advisers say over the last five years they have seen an 8% rise in those staying in education.
Careers Wales chief executive Trina Neilson called the results encouraging, "particularly in the current climate".
The organisation's annual pupil destinations survey looks at the number of pupils not in education, employment or training (Neets).
The information and guidance service undertakes the survey annually on behalf of the Welsh government.
A total of 4.4% of Year 11 pupils were regarded as Neets in the last academic year, down from 5.4% in 2010.
The trend is also reflected in the figures for Year 12, as 4% more of these pupils (90.6%) continued their studies last year than in 2007, when the figure stood at 87%.
In tandem, the proportion of Year 12 pupils categorised as Neets has dropped to a five-year low of 2.5% from about 3% since 2007.
However, this year's data shows a slight drop in the number of Year 13 pupils who become Neets.
That is 6.5% in 2011, compared with 6.6% the previous year, with the trend showing an overall increase in the past five years.
Ms Neilson said: "Our principle concern is with the proportion of young people who become Neet after leaving further education at 18.
"A competitive job market is, of course, a significant factor, but I believe too many of our young people are 'falling out of the system' and that more could be done to ensure that the support that they receive is as consistent as it can be."
The full report, which includes year group analysis, plus trends over a five-year period, will be published later on Careers Wales' website.