Merthyr Tydfil's new tertiary college work begins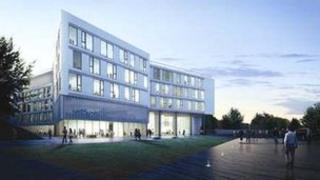 The start of a project to build a new tertiary college in Merthyr Tydfil has got under way.
The 'College @ Merthyr Tydfil' is expected to open in September 2013 and aims to be the main centre of post-16 education in the town.
Four secondary school sixth forms in Merthyr will close and students will transfer to the new college site.
The decision to shut the sixth forms was opposed by parents and pupils.
Jeff Cuthbert, deputy Minister for Skills, has laid the college's first cornerstone in a ceremony in Merthyr on Thursday.
The minister was joined by the University of Glamorgan's deputy vice-chancellor Huw Williams.
The college is part of the University of Glamorgan group following a merger in 2007.
'Inspire learners'
John O'Shea, Dean of Merthyr Tydfil College, said: "The building will embrace 21st Century technology and practices, providing first class teaching and learning opportunities that will inspire learners across Merthyr Tydfil and its surrounding communities to engage in further and higher education, update and improve their qualification levels and maximise their potential."
In March last year, Education Minister Leighton Andrews approved plans to close sixth forms at Cyfarthfa, Afon Taf, Pen y Dre and Bishop Hedley schools in Merthyr.
Councillors had voted 20-8 in favour of closing the sixth forms in April 2010, following months of investigations.
But supporters of sixth forms said the school-based facilities provided a supportive environment in which teenagers could excel.