Electrification 'key' for south Wales 'metro' rail plan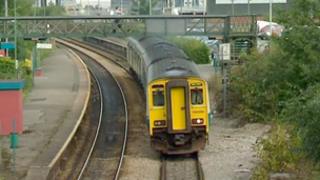 Plans for a metro-style rail system covering 10 council areas have been outlined at a transport group meeting.
But the South East Wales Transport Alliance (Sewta) says electrification of the network is key to the proposals.
The scheme is unveiled a day after UK Transport Secretary Justine Greening said there was "good case" for looking at electrification of valleys lines.
This week a cross party delegation of AMs and business leaders lobbied Westminster on the issue.
The proposals for a "turn up and go" transport system for south east Wales were unveiled at Sewta's meeting in Bridgend.
Sewta Metro Plus envisages passengers being able to travel across the 10-council region, stretching from Monmouthshire to the Vale of Glamorgan, in 45 minutes from either Cardiff or Newport.
The transport groups said the scheme would provide a "comprehensive, sustainable transport network to meet the demands of the 21st Century".
The proposals call for "seamless and multi-modal" ticketing, information and changes for passengers.
Ms Greening has faced several calls from Welsh politicians to consider adding valleys lines to the £1bn electrification of the main rail line between London and Cardiff announced a year ago.
Last month, Welsh Transport Minister Carl Sargeant said full electrification of both the Valleys and Great Western Line down to Swansea was "essential".
Welsh Secretary Cheryl Gillan has told BBC Wales: "Improved rail connectivity is a vital component for delivering a successful Welsh economy, and a strong business case for electrification of the Valley Lines is something I passionately want to see."
'Substantial investment'
On Thursday, Ms Greening outlined proposed rail reforms that included more smart ticketing for rail passengers.
She said: She said: "I think we are putting substantial investment into Wales.
"In fact, the Secretary of State for Wales has been a tireless advocate, actually, pressing me to look at the case, particularly, not just for electrification which we're already doing to Cardiff but also to look at what I recognise is a good case for looking at electrification of the valleys.
"We're now very carefully looking at some of the other opportunities to improve the railway service within Wales."