Military charity SSAFA urges veterans in Wales to seek help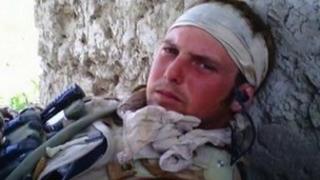 A military charity is looking at how to encourage veterans in Wales affected by traumatic experiences to seek help.
Gen Sir Kevin O'Donoghue, chair of the Soldiers, Sailors and Families Association Forces Help (SSAFA), is meeting politicians and community leaders in Cardiff on Wednesday.
He said military personnel were often proud people and reluctant to get help.
A soldier suffering from post-traumatic stress disorder (PTSD) was found hanged in Pembrokeshire on New Year's Day.
Welsh Guardsman L/Sgt Dan Collins, 29, from Tiers Cross, near Haverfordwest, was said to have faced a constant battle with PTSD and had previously tried to take his own life.
His girlfriend Vicky Roach said he had been deeply troubled but struggled to talk openly to his family about his experiences.
L/Sgt Collins had served in Helmand Province in Afghanistan, where he had escaped death on several occasions and lost two of his best friends.
The SSAFA said it wanted to reach out to veterans around Wales, and pointed to the low number seeking help in the Cardiff and Vale of Glamorgan areas.
It said over the past 12 months, fewer than 250 veterans in Cardiff and the Vale had come forward to the charity.
SSAFA helps over 50,000 people annually around the UK with everything from mental health issues to benefits and pensions queries.
It can help serving or retired servicemen and women, and their families.
Gen Sir Kevin said: "People from the military are often very proud and can be reluctant to come forward and get the help that they deserve.
"Many are left to cope with their hardship alone.
"With its strong military ties, we know that there are hundreds maybe thousands of people in Cardiff, the Vale of Glamorgan and throughout Wales who need our help but for whatever reason are not coming forward.
'Greater assistance'
"This visit will look at ways of ensuring that all agencies who meet veterans in crisis know where to signpost them and at ways we can work together to provide greater assistance for those from a military background who are struggling in Wales."
Another charity, Bridgend-based Healing the Wounds which aims to help Welsh soldiers suffering from mental health issues such as PTSD, said earlier this month it had received dozens of calls for help since L/Sgt Collins' story was told.
Cross-party politicians in Wales have also promised to raise awareness of PTSD.promised to raise awareness of PTSD.
Newport West Labour MP Paul Flynn said he had spoken to an ex-soldier who knew of six others who had taken their own lives.
He and Clwyd West Conservative AM Darren Millar want to improve the help available.