AM Leanne Wood calls for action over Wales' empty homes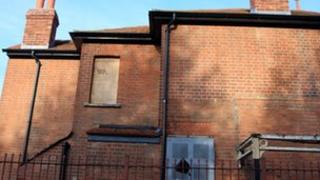 The Welsh government has been urged to work with councils to reduce the estimated 23,000 empty homes in Wales.
Plaid Cymru's housing spokeswoman, Leanne Wood, says it is a "travesty" many people are waiting for homes, while so many lay empty.
The Welsh government said it had issued guidance to local authorities on a "range of enforcement measures".
The Chartered Institute of Housing (CIH) Cymru said empty homes were a "wasted resource."
According to a survey by the CIH and housing charity Shelter Cymru, more than 26,000 properties were classed as long-term empty in Wales in 2008/2009.
The number was estimated to be about 23,000 in 2009/2010.
Ms Wood said: "It is a travesty that so many people are desperate for homes yet we have as many as 23,000 properties lying empty across Wales."
She called on the Welsh government to use a variety of measures - including compulsory purchase powers - to ease the problem.
She added: "In these times of deepening economic crisis, more and more people are struggling to pay their rent or mortgage.
"The need for affordable housing is on the increase and that is why the need for action on empty homes is becoming more and more urgent."
A Welsh government spokesman said it released £5m of capital funding last month to enable more empty properties to be brought back into use.
The spokesman said official figures suggested the figure was closer to 22,000 empty homes, adding: "We have issued guidance to local authorities and they have a range of enforcement measures they can use.
"These include empty dwelling management orders and in more extreme cases compulsory purchase orders.
"In 2010-11, 954 private sector dwellings that had been vacant for more than six months were brought back into use by local authorities."
A spokeswoman for the CIH Cymru said: "We recognise these concerns around the number of empty homes in Wales, which are a wasted resource given the current housing need.
"CIH Cymru has for some time been calling for increased action to bring empty properties back in to use and we were pleased to see this recognised with the recent accouchement by the housing minster of a £5m loan scheme specifically to address this issue."
However it has called on the Welsh government to allocate another £122.5m.
The spokeswoman added: "We are working with members of all political parties to build consensus that not only would this additional funding provide a boost to the creation of much needed affordable homes, it would support jobs and apprenticeships at a time of record unemployment across Wales."
Earlier this month, Carmarthenshire council used a rare legal order to take over and renovate a privately-owned eyesore property.
It used a final empty dwelling management order to gain temporary control of the house in Llangennech, which it said was attracting vandals, anti-social behaviour and fly-tipping.
According to the charity Empty Homes, there are one million empty homes in the UK.
Two million families need a home and 100,000 more new builds are required each year, it says.