Wales chief medical officer Tony Jewell to retire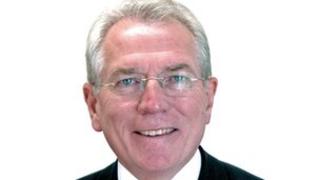 Wales' chief medical officer (CMO) has announced his retirement after five years in which he has overseen the ban on smoking in many public places.
Dr Tony Jewell, 61, who will stand down next summer, said he was proud of health achievements during that time.
He has been a strong advocate of the smoking ban, as well as cracking down on alcohol misuse and improving diet.
He campaigned to restrict the sale of tobacco from vending machines and also backed plans to ban smoking in cars.
"It has been an enormous privilege to hold the position of CMO," he said.
"When I was appointed I said I would undertake the role for five years and so I feel that the time is right to move on.
Dr Jewell, who hopes to work with sub-Saharan African countries, thanked his staff who had supported him during his time as CMO.
"I am proud of what's been achieved during my tenure and they have been instrumental in those successes," he added.
"I'm particularly proud that public health now plays a much more influential role in the NHS than ever before.
"Strategies such as Our Healthy Future have also laid the foundations for the NHS to place a greater emphasis on prevention and promotion and focusing on making the NHS a wellness service rather than a sickness service.
"Only by focusing on prevention can we tackle the big public health issues such as smoking, obesity and alcohol and make the NHS more efficient."
'Hugely grateful'
First Minister Carwyn Jones, said: "Tony has played a leading role in terms of developing Wales' reputation as a country which follows progressive public health policies.
"In particular, his recommendations on protecting children from the effects of smoking was the main reason I proposed legislation if we do not achieve a further fall in smoking rates.
"I have been hugely grateful for Tony's advice and wish him all the best for the future."
David Sissling, the NHS Wales chief executive, said: "It has been a real pleasure and a privilege working with Tony.
"His passion for his profession is reflected in the increased focus on public health across the NHS and he will be a hard act to follow."