Wales' life expectancy gap between richest and poorest growing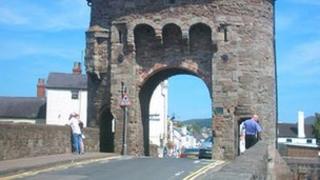 The life expectancy gap between the richest and poorest people in Wales is growing, according to new figures.
Men in the most deprived areas are likely to die nine years before those in the wealthiest parts, says Public Health Wales.
Ministers said the reasons were complex, but they were tackling factors like smoking, drinking and inactivity.
However, overall life expectancy is improving, with men on average expected to reach 77 and women 81.
The report shows people in Ceredigion and Monmouthshire can expect to live about five years longer than those in Merthyr Tydfil and Blaenau Gwent.
The life expectancy gap between rich and poor has widened in the last decade.
Dr Judith Greenacre, from Public Health Wales, told BBC Radio Wales it was difficult to say exactly why the gap between wealthy and poor areas was growing.
"Life expectancy is related to many different factors that actually impact over peoples' entire lives," she said.
'No easy answer'
"Some of it may be to do with the start people have in life, how much education they have and what opportunities there are for work and to get income."
The amount of exercise people do, how much they drink, whether they smoke, and their diets are also important.
She said the research would help the Welsh government and local councils tackle the problem.
"We need to look at how we target services to those areas to find out whether we are delivering services in the best way to help people in more disadvantaged areas," she added.
"There is no easy to answer to this but I think there is a lot we can do by taking it seriously.
"What we have here is a lot of information at a very local level which will enable people to look at the most deprived communities and work with those communities to try and improve things."
'Unhealthy behaviours
The Welsh government said it welcomed the improvement in life expectancy and in healthy life expectancy and was committed to addressing the widening health inequality gap.
Chief Medical Officer for Wales Dr Tony Jewell said: "An example of reducing inequalities in Wales has been the dramatic fall in childhood pedestrian accidents and injuries due to interventions such as traffic speed controls.
"The Welsh government has clear strategies to tackle these factors, and others such as unhealthy behaviours including smoking, drinking, inactivity and eating unhealthily."