E. coli baby deaths investigated in Swansea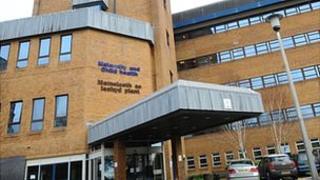 Investigations are continuing at a Swansea hospital after two premature babies died following an E. coli infection.
Five cases have been identified and it is believed two were contracted in Singleton Hospital's maternity and neonatal unit.
Health officials said the infection seemed to be under control.
An inquest has been adjourned into the death of Hope Erin Evans from Aberdare, who was five days old when she died.
Health Minister Lesley Griffiths is due to make a statement to assembly members on Wednesday afternoon.
Abertawe Bro Morgannwg (ABM) University Health Board said the maternity and neonatal unit had undergone a deep clean and is open as usual for full-term births.
But as a precaution it had temporarily restricted the unit to admissions for babies of 36-weeks and over gestation.
'Difficult to eradicate'
Microbiologist Prof Hugh Pennington told BBC Radio Wales that ESBL E. coli caused problems for young babies because their immune systems were not well-developed.
He said he believed the hospital was taking the right steps to try to deal with the outbreak.
"These bugs . . . are really quite good at getting about and once they get into something like a neonatal unit, history tells us with other related bugs they can be really quite difficult to eradicate," he said.
"I'm sure that the people at Singleton are doing their utmost to make sure that there aren't any problems.
"They have restricted admission to the very young babies because they are the ones really at risk from this particular nasty bug. It's a very reasonable approach to take."
Cross-infection
Investigations at the hospital will include how cross-infection occurred in the maternity and neonatal unit.
One of the cases is a mother who has tested positive for ESBL E.coli but who has not shown any symptoms and has not required treatment.
The board said it suspected she had contracted the bug within the hospital, but that they were waiting for test results to confirm this.
It said that while both babies died in Singleton, only one had contracted the infection inside the hospital.
Hope Erin Evans died on 4 November but it is not clear when the other baby died.
'Isolated incidents'
The health board's medical director Dr Bruce Ferguson reassured expectant mothers due to give birth in Singleton Hospital that the maternity unit is open as usual for full-term births.
"These appear to be isolated incidents which have been contained, and there is no evidence of the infection spreading further," Dr Ferguson added.
"Checks have been taken of patients, equipment and areas in the maternity/neonatal unit and no evidence of ESBL E. coli has been found.
"The unit has an excellent record for hand-hygiene and general infection control adherence. Reported infection levels in the unit have been below the national average in recent years."
ESBL (extended-spectrum beta-lactamase) producing E. coli are strains of E.coli that are resistant to antibiotics, making them difficult to treat.
In many cases, only two types of antibiotic taken by mouth and a "very limited" group of intravenous antibiotics are effective, according to information from the Health Protection Agency (HPA).
E. coli can lead to serious infections such as meningitis and blood poisoning, which can be life threatening.
The health board said any mothers-to-be who have concerns or questions should speak to their community midwife in the first place. In addition a help line has also been set up: 07747 615627.