Shelter Cymru says home repossession help 'up 300%'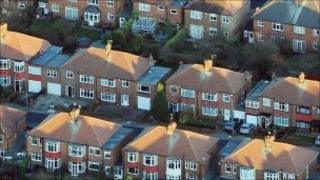 A housing charity says the number of people needing its help because they are threatened by home repossession has risen by 300% in the past three years.
Shelter Cymru, which is preparing to mark its 30th anniversary, said Blaenau Gwent was the country's worst area for repossession orders.
This is followed by Merthyr Tydfil, Rhondda Cynon Taf and Caerphilly.
The Welsh government said its capital budget had been cut but that providing affordable housing was a key priority.
Shelter Cymru director John Puzey said: "We have seen a significant increase in the proportion of people coming to our services across Wales who are basically building up mortgage arrears.
"What our case workers are telling us is that the pattern seems to be people are finding all kinds of ways in which to they're trying to keep up with their arrears.
"They're using all their savings, they're borrowing off mum and dad or friends. They're even occasionally using credit cards... and they're coming to us saying they're running out of options."
Relationship break-up
UK government figures show that the number of housing repossession claims in Wales had fallen in the three years up to 2010.
But Shelter Cymru dealt with nearly 23,000 housing problems last year, a record number of which were due to people facing difficulty making mortgage payments.
In the last three years, the charity said it had witnessed a three-fold rise in the number of people needing their help who were facing home repossession.
It said it expected those figures to be reflected in official statistics in the coming year.
Mr Puzey said the charity's research also suggested a strong relationship between mortgage arrears and unemployment.
While the worst areas for repossession orders were in the south-east Wales valleys, according to the charity, those that suffered least were Ceredigion, Powys and Gwynedd.
"Our work suggests that the difficult economic situation we are all living through is taking its toll and people are losing their jobs or going on to shorter hours, mixed in with other issues as well such as illness, so you lose your job, or relationship break up," said Mr Puzey.
Dyfed Edwards, housing spokesman for the umbrella body for councils, the Welsh Local Government Association, said there was a drastic need for more social housing.
"Housing is the major issue that is impacting on the work of local authorities at the moment the length and breadth of Wales," he said.
"It's important that we see this also in the wider context. The matter of repossession is driven really by the economic crisis we're in but there's huge pressure on housing at the moment from various directions.
"The private rented sector is proving difficult due to rent increases and also that landlords are cashing in on the accommodation they own."
Affordable housing
The Welsh government said it was doing all it could to improve the quality, supply and affordability of homes for the people of Wales.
"Our aim is to maximise the delivery of affordable housing by challenging the level of provision set out in local development plans, providing financial assistance through the social housing grant, and other mechanisms such as the use of Welsh government land for affordable housing," said a spokesperson.
"However, it is the responsibility of local authorities to prepare their local development plan and address the needs of local communities, including affordable housing.
"The UK government has cut our capital budget by 38%. This means there is less money in the Welsh pot to invest in building new homes."
Shelter Cymru said in the summer that more people in Wales were having to cut back on what they spent on food and heating to meet housing costs.