Cardiff Uni lab researches aircraft lightning strikes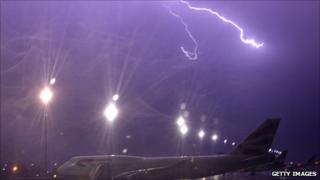 A laboratory to investigate the effects of lightning strikes on aircraft has opened at Cardiff university.
Scientists will be able to generate up to 200,000 amps, six times the current of a lightning strike.
Key research will be lightning strikes on aircraft, especially jets made of composite materials, such as the new Airbus A350.
On average airliners in western Europe can expect to be hit by lightning at least once a year.
The £1.6m lab is a joint initiative with aerospace company Eads, with European funding through the Welsh Government.
A key research area will be lightning strikes on aircraft, especially jets made of composite materials, such as the new Airbus A350.
Understanding how the materials behave when struck by lightning is vitally important for safety.
The Morgan-Botti laboratory has been named in honour of former First Minister Rhodri Morgan and Dr Jean Botti, EADS chief technical officer, both instrumental in establishing the facility.
The launch of the lab coincided with the opening of the new Airbus A350 wing factory at Broughton in Flintshire.
The facility in the Splott area of Cardiff will test the materials used in the wings to ensure they conform with the demanding safety standards.
Panels from wings or other components will be subjected to the same forces expected from natural lightning.
Lightning effects
Mr Morgan said that hi-tech science and research was key to growth in the Welsh economy.
"We have to be a technology-based economy. It's all about the R&D [research and development]", he said.
"You could have a lightning strike which could damage an aircraft so this is a preventative form of technology," he added.
Project manager Philip Leichauer said: "Our new laboratory will generate controlled lightning, which will be used with advanced test and measurement methods to further understand lightning effects on materials, and ensure future aircraft remain safe."
Most lightning strikes on aircraft occur when they fly into an area where a high charge has built up and the jet initiates, or triggers the bolt.
The new lab, which was officially opened on Thursday by First Minister Carwyn Jones, has complex systems that ensure the safety of researchers, with the control area separated securely from the live equipment.
Switches are operated by compressed air and fibre optics are used to carry signals from instruments so no cables or other conductors run between the two sections.
The experiments themselves are carried out within a double steel-lined cage which also provides an acoustic shield for the loud blast when the lightning bolts are fired.
As well as research for the aviation sector, the lab will also be available for a wide variety of studies into the effects of lightning.
'Facility is crucial'
Eads, formally the European Aeronautic Defence and Space Company, is the parent company of Airbus.
It also has a military division, a space division Astrium, and owns Eurocopter, the world's largest helicopter manufacturer.
"This kind of facility is crucial," said Dr Botti who stressed the importance of the research for the new Airbus aircraft. "The A350 is coming out, built with 52% of composites.
"This kind of test will prevent any kind of issues that are related to lightning strikes. I cannot emphasise just how important it is that we get the safety right for any new materials," added Dr Botti.