Michael Jackson: Tears and cheers at Cardiff tribute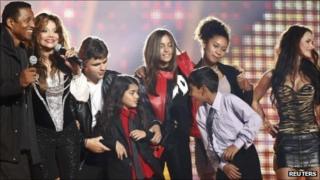 It was difficult not to be humbled by the atmosphere backstage at Michael Forever.
Motown legends and global pop superstars alike reflected on the huge contribution Michael Jackson made to them as individuals as well as generations of fans around the world.
For some Saturday's concert at the Millennium Stadium in Cardiff was an opportunity to remember the good times, the personal moments they had spent with the star, who died aged 50 in 2009.
Motown legend Gladys Knight told me how she remembered Michael as a child, when he would visit the recording studio with his brothers in the Jackson 5 to watch her rehearse with her backing group, the Pips.
"He was my baby," she recalled. "Michael must have been, what, six years old when I first met him.
"I just watched him grow and we would get together, with me and the Pips, and they would ask us questions about the business. When they first came they packed their little packed lunches and get on the sofa.
"Michael was such a very special and gifted young man."
Smokey Robinson, who had known Michael Jackson since the singer was 10, said: "He grew up around me and I saw him develop into a man who inspired generations of people and musicians".
Robinson who hails from Detroit, Michigan, recorded worldwide hits like Tears of a Clown and I Second That Emotion, later becoming vice-president of the Motown label.
"He had a great effect on me because he was my little brother," said Robinson. "You know, he's family.
"I miss him, I'm sorry he had to leave here so young. I regret the fact that I didn't get to spend more time with him in his latter years."
There had been speculation before the show about how many of the 50,000 tickets would be sold, and some acts, such as the Black Eyed Peas withdrew.
The organisers said on Friday that they had sold 40,000 and were expecting a sell-out. There were a lot of empty seats on the night, but the stadium does hold 74,000, and it was difficult to tell how close to capacity it was for this event.
While many fans bought their tickets in advance, a number told me they had not had to pay.
But whatever the size of the crowd, it was an impressive production, with a succession of artists appearing on a huge stage before an enthusiastic audience.
Jackson's three children, Prince Michael, 14, Paris, 13, and Prince Michael II, nine were all in the audience, and their aunt, La Toya Jackson, explained what the concert meant to them.
"They never had a chance to see their dad perform and this would have been the first, so this is the closest they're going to get to that - people honouring him.
Describing how she helped Paris, decide what to wear to introduce Beyonce on stage La Toya explained: "She said 'Oh I'm going to wear Daddy's red jacket, I'm going to wear it like this'. I was like 'yeah, you look great'."
But La Toya was quickly overcome with emotion and with tears in her eyes, she told me about the side of her brother the public never got to see.
"You guys got to see a side that was very caring," she said.
"But you didn't really see how loving and caring he was, you have no idea. He was very sensitive, would cry over anything.
"Definitely it's mixed emotions. I'm sure my mother's cried about five or six times already and then I'm sure she's smiled about eight or 12 times."
Her voice wobbling and breaking into tears Latoya described how she will remember Michael as "a wonderful person, the way he is".
With the criminal trial of Conrad Murray, the doctor charged with involuntary manslaughter over the star's death, continuing in the US, not all the Jackson family supported the concert.
But ahead of the show I caught up with his brothers Tito, Jackie and Marlon Jackson, who told me their justification for going ahead with it.
Tito said: "Michael Jackson was a great artist and his music has touched the entire world. We're here to celebrate his legacy.
He explained: "This concert was in the works before the trial, because they kept moving the trial but I think this is a more positive side of our brother, enjoying some of the more positive side of things we did when we were kids.
Marlon said: "Also we weren't all able to go to the courthouse in Los Angeles because they only gave us so many seats. We have such as big family some members are going to the court and some are here."
Michael Jackson's brothers, who helped to organise the tribute, said beforehand they were most looking forward to singing with JLS.
Not surprisingly, JLS were delighted when I revealed this to Aston Merrygold, Marvin Humes, Oritsé Williams and JB just as they came off after their duet.
"That's fantastic, do you know what, the brothers have been absolutely amazing to us," said JB. "They've been nothing but uncles and father figures to us.
Marvin said: "It's unbelievable what we just did, for us growing up listening to the legendary Jackson brothers.
Oritsé said: "Marvin just took Jackie Jackson's number so hopefully when we go out to America we'll meet up with them."