Glyndwr drops University of Wales degrees after scam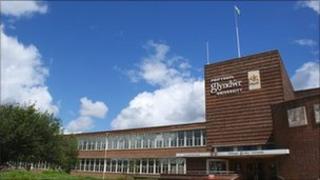 Glyndwr University in Wrexham has announced it is pulling students out of University of Wales (UoW) degrees.
Newport University said it was "highly likely" to deliver its own degrees in the future.
It follows a BBC Wales investigation into a student visa scam at colleges offering UoW-validated qualifications.
Glyndwr said all students being taught under and postgraduate courses would be transferred to its own awards with immediate effect.
Students were told they have the option to remain on a UoW degree.
Shortly after the announcement, University of Wales Newport suggested it would do the same.
They are the latest developments in a damaging week for the UoW's reputation.
Glyndwr said last month it had formally applied to withdraw from the UoW alliance, meaning students would study for its own degrees from 2012.
But in a statement to students on Friday, pro-vice chancellor Helen James and student guild president Adam Fuller said: "With immediate effect all Glyndwr University students on taught undergraduate and postgraduate degrees will be transferred to Glyndwr University awards.
"There is an option to remain enrolled on a University of Wales degree if you wish to do so, and further information on how to do this will be provided to you in due course."
They reassured students their courses would not be affected by the revelations.
The move followed a decision by the UoW earlier in the week to stop validating degrees outside those it directly controls, the university said.
'Painful week'
Newport vice chancellor Dr Peter Noyes said the university had the power to award degrees in its own name if it chooses.
"Following Monday's announcement that the University of Wales plans to end awarding degrees at Welsh institutions from 2012, it is highly likely that we will deliver degrees in our own name in the future.
"At the very least, once this happens, current students will have the option to either continue studying towards a University of Wales degree or to receive a degree solely in the name of Newport."
He said it had been "an incredibly difficult and painful week" and that university leaders should pull together "to focus 100% on reassuring our students and others that higher education in Wales will continue to be a huge positive force for all the people and communities that we serve".
The UK Border Agency (UKBA) has raided premises as part of an operation launched in response to an investigation by BBC Wales' Week in Week Out.
The programme found overseas students were being made offers to cheat their way to UoW-validated degrees and UK graduate work visas.
The heads of five Welsh universities have said they want the UoW title scrapped. The vice-chancellors of Aberystwyth, Bangor, Cardiff, Glamorgan and Swansea said they were "appalled" by what had been exposed and would not accept UoW in its current form.
UoW vice-chancellor Prof Medwin Hughes has said he wants to repair the institution's "tarnished" brand, rather than ditch it.
It is understood Education Minister Leighton Andrews will make a statement about the affair next week.
Meanwhile, a college in London at the centre of the BBC's investigation has said it is co-operating with the police and the UKBA.
Rayat London College, where undercover footage suggested students were offered the chance to enrol on express MBA courses using fraudulent diplomas, disassociated itself from the allegations and said three contractors were suspended on the day the BBC alerted it.