Michael Jackson's three brothers defend tribute concert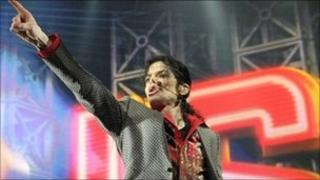 Three of Michael Jackson's brothers have defended the decision to stage a concert in Cardiff in his memory while the trial of his doctor is underway in the US.
Jermaine and Randy Jackson and a number of fan clubs have criticised the timing of the event.
But Marlon, Tito and Jackie Jackson will be taking part in the concert with their sister La Toya.
Dr Conrad Murray denies involuntary manslaughter.
The Black Eyed Peas, Christina Aguilera, Beyonce and Cee Lo Green will perform at the concert at the Millennium Stadium on Saturday.
Tito Jackson told BBC Radio 5 live: "The whole thing is...to honour him as a brother and as an entertainer and as a person who dedicated his life to others."
BBC Radio 1 presenter Fearne Cotton will co-host the event with Hollywood actor and singer Jamie Foxx.
Michael Jackson died aged 50 in June, 2009 while rehearsing for his This Is It tour. Saturday's tribute concert will raise money for three charities including the Los Angeles-based Aids Project.
"Positive driven"
Jackie Jackson said: "I know my brother Michael and we are doing his music, everything is positive driven and that's what we are about. It's a tribute to him.
"All of those fans who are not participating, we want to thank them for supporting our family, the music. We respect their decision. The ones who will be there, we hope they enjoy it."
Randy, Jermaine and Janet Jackson have all confirmed they will not be at the concert.
"Because of the trial, the timing of this tribute to our brother would be too difficult for me," said Janet Jackson has previously said in a statement.
Jermaine Jackson also criticised the concert's "bad timing".
'Brighter side of Michael'
"It's good to celebrate, good to keep the legacy alive, but everything has its time," he said.
"We're all focused on getting justice for Michael, the best tribute we can do for him is getting justice and making sure we get justice as a family as to what happened."
But their brothers Marlon, Tito and Jackie said in the interview with BBC Radio 5 live that they decided not to change the timing of the concert as "they kept changing the trial date on us," adding it was a chance to remember "the brighter side of Michael".
"Somehow the concert and the trial came together," said Jackie Jackson.
The brothers also said that the concert will provide some respite for them and their mother Katherine Jackson from the stresses of the ongoing trial of Michael Jackson's doctor.
Prosecutors claim Conrad Murray caused the pop star's death by giving him a powerful anaesthetic, Propofol, to help him sleep.
Dr Murray has pleaded not guilty to the charges in the trial in Los Angeles.