Highs and lows of the University of Wales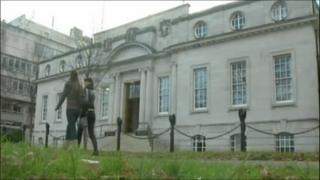 Its students have included Prince Charles, Labour power couple Neil and Glenys Kinnock, and star BBC names such as news presenter Huw Edwards and Alex Jones, of The One Show.
However, the University of Wales (UoW) finds itself in the headlines for unwelcome reasons.
It is currently the second largest university in the UK with 70,000 students studying its courses in 130 colleges around the world.
But from next September, it will become just two small universities in south west Wales - Swansea Metropolitan and Trinity St David, which it plans to merge.
It means a huge turnaround in fortunes for the university, which announced on Monday that it was to stop validating courses at all other institutions in the UK and abroad.
That announcement came ahead of a scam exposed by BBC Wales in which overseas students are helped to cheat their way to University of Wales-validated degrees and visas, which is being investigated by the UK Border Agency.
The university was founded in 1893 as a federal institution with three foundation colleges - University College Wales (now Aberystwyth university), University College North Wales (Bangor university) and University College South Wales and Monmouthshire (Cardiff university) - and gradually grew over the next century.
Colleges in Swansea, Cardiff and St Davids later joined, but in 1992, the UoW lost its position as the only university in Wales when the Polytechnic of Wales became the University of Glamorgan.
Then in 1996, UoW was reorganised with a two-tier structure in order to absorb the Cardiff institute of higher education (now University of Wales Institute Cardiff - Uwic) and Gwent college of higher education (University of Wales Newport).
Four more institutions - North East Wales Institute of Higher Education (now Glyndwr university), Swansea Institute of Higher Education (Swansea Metropolitan), Trinity College Carmarthen and the Royal Welsh College of Music & Drama - were added in 2004.
But the University of Wales College of Medicine merged with Cardiff University in August 2004 and, while it continued to award UoW degrees, students studying other subjects from 2005 were awarded Cardiff university degrees.
The Royal Welsh College of Music and Drama subsequently left UoW in January 2007 and in September of the same year, UoW changed from a federal structure to a confederation of independent institutions.
That allowed those individual institutions to use the title university - Aberystwyth University, Bangor University, Glyndwr University, Swansea Metropolitan University and Swansea University.
In November 2008, Aberystwyth, Bangor and Swansea universities decided to exercise their right to register students to study for their own awarded degrees.
Then in February this year, UoW announced plans to form a super university by merging Uwic, Swansea Metropolitan and Trinity St David.
But in June, a report commissioned by the Welsh government said UoW had become too reliant on income from validating degrees awarded by overseas colleges.
It recommended that the university should "change radically", and that if the planned merger does not go ahead then it should either be reduced to a service provider for the rest of the Welsh higher education sector, or wound down completely.
The university was also advised by the Quality Assurance Agency to review its partnerships with foreign colleges following an investigation by BBC Wales which suggested shortcomings in its system of validation.
The Welsh government said it brought Wales "into disrepute".
On Monday, it announced it was to stop validating courses at all other institutions in the UK and abroad.
Many famous names have passed through the UoW universities over the years.
They include Prince Charles, who spent a term at Aberystwyth in spring 1969, while former Conservative MP Neil Hamilton, current First Minister Carwyn Jones and BBC's The One Show presenter Alex Jones also studied there.
Celtic Manor owner and technological entrepreneur Sir Terry Matthews studied at Swansea, as did former Wales and British Lions rugby international Rob Howley.
Former Labour leader Neil Kinnock was at Cardiff where he met his wife Glenys, and BBC presenter Huw Edwards was a student at Cardiff.
Olympic gold medallist Lynn Davies, TV presenters Jill Dando and John Inverdale and former Welsh rugby union scrum-half Gareth Edwards all went to Uwic, while former North Wales Police chief constable Richard Brunstrom graduated from Bangor.