October 28.2C temperature recorded at Hawarden in Wales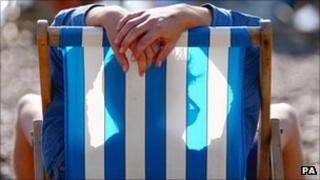 The record has been broken for the highest temperature recorded in October in Wales.
Hawarden in Flintshire reached 28.2C (82.8F) on Saturday, after earlier beating the previous record which had stood for 26 years to the day.
That was also in north east Wales and was 26.4C (79.5F) at Ruthin in Denbighshire on 1 October, 1985.
The new record could be beaten later on Saturday as temperatures were said to be still climbing.
BBC Wales weather presenter Behnaz Akhgar said: "We've been waiting for it all week. The September record temperature is much higher than October so harder to beat, so Saturday was always a good chance.
"The temperatures start to cool from Sunday so this was the likeliest day.
'Nice surprise'
"Average temperatures for this time of the year are 16C to 17C so the top temperature is 10C above average which is a nice surprise for everybody in autumn."
She said the north east of Wales was seeing the hottest temperatures, with the north west cooler because of cloud in some areas.
Hawarden initially broke the record on Saturday reaching 27.5C (80.6F), but that rose again at 14:12 BST to 28.2C (82.8F).
By Tuesday, temperatures in Wales are expected to be back to the average for this time of year.
A new record has also been set for the highest temperature recorded in the UK in October - 29.9C (85.8F).
It was set at 14:42 BST in Gravesend, Kent, beating the previous record of 29.4C (85.9F) recorded on 1 October 1985, in the town of March, Cambridge.