Paul Ridd's last hours 'horrendous', say family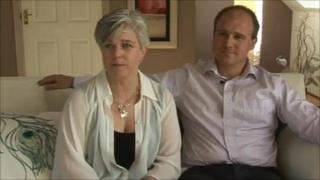 The family of a man whose care was described as "dire" by the Public Services Ombudsman for Wales have spoken of their distress at the way he was treated on a hospital ward.
Paul Ridd, 53, who had learning difficulties, died in January 2009 after transfer from intensive care.
His brother Jonathan Ridd said medical staff committed a "catalogue of errors" before he died at Morriston Hospital.
His sister Jane Nicholls said her brother's last hours were "horrendous".
Mr Ridd, from Baglan near Neath, died from respiratory problems after surgery for a bowel problem.
But his brother and sister, who were his main carers, said the standard of care he received deteriorated the moment he was moved onto a general ward.
'No leadership'
Mr Ridd said: "When Paul was in the intensive care unit, he had top quality care, like a five star hotel, and when he was moved across the corridor, it felt like we were in a Third World country in terms of care, cleanliness.
"There was no leadership and his observations were not done as instructed.
"In the last four hours of his life, we weren't with him unfortunately, and Paul's carer was constantly begging the nursing and medical staff to examine him as his condition had steadily deteriorated.
"They never actually examined him, and the excuse that they gave was that he was agitated, when he was actually dying."
Mr Ridd said the pair would always find it difficult to think about the way their brother died.
"It was a catalogue of errors from the time he was released from intensive care.
"We could see the depth of suffering Paul was experiencing, however, the medical and nursing staff didn't pick up on it."
His sister Jane Nicholls said that because Mr Ridd could not communicate, those around him had to be alert for signs of his distress.
She said: "I find it really difficult because I don't know quite how Paul felt and he died from excess secretions in his upper airways, which is like drowning, and he was unable to communicate to us.
"The last 58 hours of his life were horrendous and that has left me with a terrible memory."
But she added that the family was grateful the ombudsman took up their complaint.
Correct treatment
Mr Ridd added: "We wanted the ombudsman's report in order to make changes for vulnerable people going into hospital that can't communicate for themselves, and their families and carers need to communicate for them.
"It is so important that is recognised within the health authorities and picked up on, so patients can have the correct treatment and this doesn't happen again."
Both recalled their brother as a "special individual".
Mrs Nicholls said: "He was very sociable. Unfortunately he had severe learning difficulties which meant he had the mentality of an 18-month-old child but he enjoyed the simple things in life.
"He gave our family so much pleasure."
Mr Ridd added: "He had a character that blossomed and gave sunshine.
"Everybody that he met warmed to Paul, he brought happiness to us and people on the street."
Managers at the hospital said procedures had been improved.
Awareness training for all doctors and nurses has been ordered at the hospital.