Motorcycle Action Group stages EU protest on M4 and A55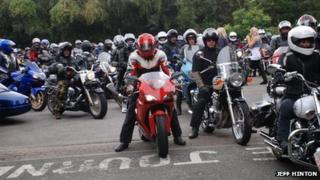 About 1,500 motorcyclists have staged go-slow protests on the M4 in south Wales and the A55 in north Wales against proposed EU laws on bikers.
The Motorcycle Action Group (MAG) claims that they would be more heavily regulated than other road users.
South Wales Police said about 1,000 bikers drove along the M4 westbound from junction 32 (Coryton) to junction 35 (Pencoed) with little disruption.
Organisers of the A55 protest say 500 bikers joined a go-slow from Abergele.
The rides were among 70 protests organised by MAG across the UK at 13:00 BST on Sunday to protest at a range of EU proposals on motorcycling.
Road restrictions
MAG says the regulations would restrict the right of bikers to modify their machines, and claim they would single out motorcycles for regular roadside checks.
Campaigners are also concerned at French legislation which would ban motorbikes more than seven years old from urban areas and would require all motorcyclists to wear high visibility clothing.
Jeff Hinton, who led the A55 protest west of Abergele, said it all went peacefully.
"I believe there was a three mile tailback, but nothing more serious," he said.
"An ambulance was able to pass us quite comfortably."
Mr Hinton added that there was a good reaction to the protest.
"There were lots of people waving from the bridges overhead - that always surprises me.
"It was a happy occasion."