S4C protesters scale Cardiff headquarters roof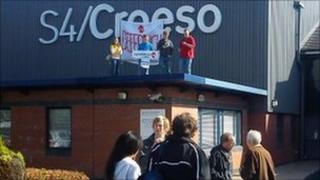 Welsh language campaigners have climbed onto a roof at S4C's headquarters in Cardiff.
They are protesting at the UK Government's decision to hand over part of the responsibility for funding the Welsh-language channel to the BBC.
Other members of the Welsh Language Society are also picketing the offices at Llanishen in the city.
South Wales Police said the protest, which follows a vigil at the offices on Tuesday night, was peaceful.
From 2013 changes are being made in the way S4C is funded.
The Welsh Language Society is calling for people to refuse to pay the licence fee in protest.
It said the protest was an attempt to get S4C officials to "wake up to the dangers" facing the channel and to take "a more active part in it's defence".
In a statement S4C said discussions with the Department for Culture Media and Sport (DCMS) and the BBC were ongoing.
It added: "Operational and editorial independence will be important to S4C and it's audience under any new arrangements with the BBC Trust."