Warning to Facebook users over personal data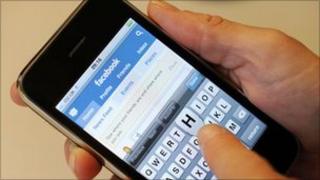 Computer security experts are warning that Facebook users divulge too much personal information which can potentially be accessed by criminals.
Cyber criminals can use this information to steal people's identities and commit fraud in their name.
IT security consultant Rob Vaughan, who spoke about cyber crime at the University of Glamorgan in Pontypridd on Tuesday, said people should think twice before adding details like their address and date of birth to their Facebook page.
"You can change your privacy settings but people put far, far too much personal information into Facebook and other social networking sites," he said.
"If you just stop and think about what you are doing... ask yourself if you really need to put that level of information in there.
"Also, you don't necessarily know all your [Facebook] friends on there that well."
Mr Vaughan, who has just helped set up Electric Cat Cymru which helps businesses and domestic users with IT security, said criminals may use various websites to gather information on an individual, a process known as aggregation.
"I would say if you were looking at trying to pinch somebody's ID or glean as much information about someone, or if you are profiling somebody, you will find a lot of information out there in the public domain," he said.
"Organised crime is using the internet as an easy target."
Facebook, which has more than 750m active users with 50% logging on in any given day, said users were in "complete control" of what they shared, who they shared it with and how much they shared.
Its privacy settings "allow users to easily restrict access to any content that they post, as they post, according to their own comfort level", said a spokesperson.
"We've made that process even simpler over the last week by introducing smart friend lists.
"Lists have existed for several years but we've made them even easier to use by rolling out smart lists which create themselves and stay up-to-date based on profile info your friends have in common with you - like your work, school, family and city."
Recent figures from a Freedom of Information request to South Wales Police showed that the number of crimes involving Facebook were on the increase.
Det Sgt Andrea Barnard, e-Crime Wales police manager, said: "I collate statistics every month on a pan-Wales basis and I can certainly say crimes on Facebook are always top of the list every month.
"You are looking at things like identity theft, harassment, bullying, sexual harassment - all sorts of things.
"It's all because people are putting up too much information about themselves."
She said businesses also needed to be careful about social networking sites as, for example, viruses and malware (malicious software) could be accidentally downloaded by employees using them during a break.
"If that's happening in the workplace it's very expensive to sort the problem out and you are potentially exposing very important company data," she said.
She said she would always advise businesses to implement an 'acceptable use policy' for social networking sites.
Extract data
Jaime Hindle, business liaison officer at the University of Glamorgan, said more and more businesses were now using social networking sites for commercial purposes, which presented potential pitfalls.
"If you don't take a savvy attitude to your page, you could be compromised," he said.
"It could be personal protection or commercial sabotage from viruses to phishing to spam to hacking into data."
He said cyber crime as a whole was becoming more prevalent as criminals turned away from more high-risk illegal activities.
"The old crimes of mugging and ram raiding, we don't hear of them any more because criminals are looking at less risky and more profitable enterprises like cyber crime," he said.
The University of Glamorgan hosted Tuesday's seminar on cyber crime as part of the Software Alliance Wales project, which promotes Wales' ICT and software sector.