Welsh mine tragedy: call for water risk safety review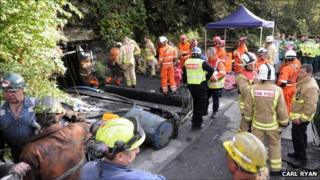 A mining expert has called for a review of health and safety regulations following the tragedy which killed four men at a Swansea Valley mine.
The Health and Safety Executive (HSE) is investigating the cause of the flooding at Gleision drift mine at Cilybebyll.
One theory is that the water may have collected in an older abandoned mine.
Dr Eric Wade of the Open University said such mines should be drained before work is allowed nearby.
He said that British mining safety legislation was among the most advanced in the world, but the work was still hazardous.
"Mining is in fact a dangerous occupation and perhaps you can't remove the danger entirely but you can try to ensure you minimise the risk," he told BBC Wales' Week In Week Out programme.
"If you're going to work in these areas before you start your mine up you should attempt to dewater some of the old workings and this would give you another margin of safety."
David Seath, a consultant in mine management services and secretary of the Mining Institute of Scotland, said the Mining Act 1978 had called for a "thorough examination" of plans before encroaching anywhere near flooded workings.
"There's quite an extensive record of old mine workings," he said. "Obviously you can't go back to the beginning of mining in the UK because that goes back many many centuries.
"They would be working under a plan which they've got to have approved by the mine inspectorate.
"It would be discussed with representatives of the workers, with the HSE and the surveyor for the mine."
He added: "I don't think that mining is so hazardous it should be eliminated completely."
Safety experts have promised that lessons will be learned following the incident on Thursday which left four men dead.
The bodies recovered on Friday were identified as Garry Jenkins, David Powell, Phillip Hill and Charles Breslin.
Three miners had managed to escape as flood water engulfed the mine's shaft when a retaining wall holding back a body of water underground failed.
A spokesperson for the HSE said: "A full report into the causes of the accident is to be published in due course to ensure that any lessons can be applied."
Speaking on Friday, First Minister Carwyn Jones said the colliery had been well-regulated.
"As far as this mine is concerned it was inspected last year and the plans were up to date in June."
A Welsh Government spokesman said: "There is an ongoing police and HSE investigation into the terrible tragedy that occurred at Gleision colliery last week.
"We have full confidence in both the HSE and the police as they carry out that investigation. It would be inappropriate to comment further at this stage."
A Week In Week Out special on the tragedy will be shown on BBC One Wales at 20:30 BST on Monday, 19 September