Welsh presumed consent law 'may deter organ donations'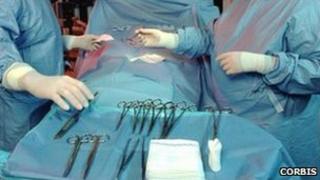 A new organ donation law could deter people in Wales from agreeing to donate, it has been claimed.
Proposals will soon be laid out for presumed consent, meaning people must opt out, or their organs may be used.
But opponents told Radio Wales' Eye on Wales it could undo good work in recent years to boost donation rates.
Renal consultant Peter Drew asked how people would react if organs are taken, not given, but supporters say it has worked in more than 20 other countries.
Presumed consent backers argue that it would increase the number of organs available for transplant, better reflect people's will to donate, and save NHS resources, on dialysis treatment for kidney patients, for example.
Under what is termed "soft" presumed consent, families would still be consulted prior to any donation.
At the end of June, there were 289 people on the "active" organ transplant list in Wales: in other words, they were ready to go into hospital for surgery, should an organ become available. Of these, 236 were waiting for kidneys.
One person dies every week awaiting a transplant in Wales.
Former AM Dai Lloyd, a Swansea GP, who first tried to introduce a presumed consent law, told the programme: "As opposed to the current system of opting in to register, opt out to say that you don't want to donate your organs.
"So it's the polar opposite of what happens at the moment.
"About 90% of people going down the high street here in Cardiff would say yes, organ donation, good thing.
"Only about 28% of people get around to opting in to do something about it… so at the present moment, we have a system of presumed objection, which also doesn't reflect what the public actually feels."
Organ donations from Wales rose by 66% over the past two years, and the nation is currently second to Spain for organ donation rates, at 27.7 per million people.
'Changed mind'
A total of 195 people received transplants in Wales last year.
Experts insist these improvements have followed the successful implementation of 14 recommendations from a UK-wide NHS organ donation taskforce.
The taskforce concluded against presumed consent in 2008 following an extensive inquiry, stating that "such a system has the potential to undermine the concept of donation as a gift, to erode trust in NHS professionals and the government, and impact negatively on organ donation numbers."
Dr Drew, a renal consultant based in Wrexham, was a member of the NHS taskforce.
He told Eye on Wales that, having begun the process in support of presumed consent, he had changed his mind by the end of their inquiry.
"I wasn't the only person who came to the taskforce with a strong view of wanting presumed consent, and then had pause to rethink and just to think, is there any possibility it could backfire?
"I hope it won't, but there are sufficient concerns about how the matter will be handled, certainly in the press, and how the public will react to a change from organs that are given as a gift, rather than taken," he said.
"There has been a loss of trust in organisations of government, the health professions… and you cannot assume consent when consent has not been obtained.
"I think there is a possibility that that British bloody-mindedness might rear its head."
Health Minister Lesley Griffiths declined to be interviewed for Eye on Wales.
The Welsh Government said in a statement that it intends publishing a White Paper outlining a system of soft presumed consent in late October or early November; further consultation will follow, with a view to legislation being introduced in 2012.
"We welcome figures showing that in Wales, 195 patients' lives were saved or improved by an organ transplant last year," said a spokesperson.
"Sadly, however, 49 people in Wales died whilst on the waiting list and there are still more than 280 people in Wales waiting for a transplant."
"There is still a long way to go if we are to help more people in need of a transplant."
Eye On Wales is on BBC Radio Wales on Sunday, 18 September at 13:00 BST