Marine Conservation Society Wales beach clean-up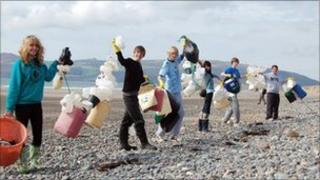 Hundreds of volunteers are taking to the beaches of Wales as part of a two-day litter survey and clean-up.
The results of the Marine Conservation Society's (MCS) Beachwatch Big Weekend will be published next spring.
It said its most recent findings showed waste on Welsh beaches is at a record high.
Gill Bell of MCS said it was anxious about the increasing level of litter in Wales, having risen 9% in the last year, and it is above the UK average.
The MCS 2010 survey said it revealed the highest levels of litter on beaches in Wales since it began collecting data 18 years ago.
The society said bits of plastic, cotton bud sticks, fishing nets and ropes, cigarette butts, bottle tops, drinks bottles and fast food wrappers were among the most common debris found.
Its last Beachwatch report also claimed a 110% rise in the amount of sewage-related debris.
This year's event involves local individuals, groups and communities.
Ms Bell, Wales programme manager for MCS said: "In 2010 our Beachwatch Big Weekend results were collected by almost 755 volunteers in Wales who cleaned 64 beaches, covering a total of 18.5 kilometres."
MCS had issued an appeal for more volunteers to join in, saying it was hoping to to see more beaches cleaned in the northern part of Anglesey, and in the Newquay, Pendine Sands and Tywyn areas.
"We really need to get a clearer picture of the state of Welsh beaches to take to the Welsh Government," said Ms Bell.
She added that MCS was also working hard to stem the problem at source by educating people.
The Beachwatch Big Weekend event, which is also happening all across the UK, is part of the International Coastal Cleanup which takes place in 80 countries worldwide.
The MSC began its Beachwatch survey in 1994 and started reporting the results by UK nation in 1996.
Beaches surveyed include popular tourist resorts, rural coastal stretches and nature reserves.