Search team rescues deputy leader in Clocaenog Forest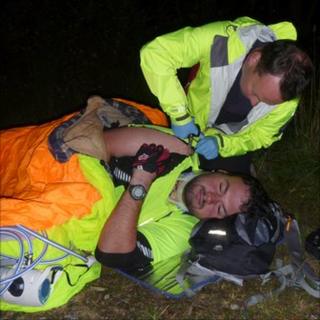 A search and rescue team called out to help an injured mountain biker arrived to find it was their own deputy leader.
Richard Prideaux was knocked unconscious when he hit a tree in Clocaenog Forest near Ruthin at around 19:00 BST on Sunday.
When he came round he phoned his partner who alerted the North East Wales Search and Rescue team.
The police helicopter helped them find Mr Prideaux who was released after treatment at hospital.
As well as being knocked temporarily unconscious, the accident left him with an injured shoulder.
Flare fired
Team leader Iain Ashcroft said his colleague was an experienced mountaineer who was well versed in the necessary procedures.
"He walked 50 metres up a track to a place where he could be seen," he said.
"As a trained mountain rescue person he carried a flare - he set this off so the police helicopter could locate him.
"It's not a call you expect to hear but he knew what to do and was a good casualty."