Richard Branson out of Wales charity swim after fire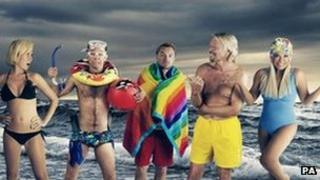 Sir Richard Branson has pulled out of a charity swim across the Irish Sea from Anglesey after a fire destroyed his luxury Caribbean home.
Twenty people escaped unhurt from the eight-room house on Necker Island when lightning struck in a tropical storm.
Sir Richard was due to join a team of celebrities for the 56-mile relay swim from Holyhead to Dublin on Wednesday.
He says he needs to be with his family instead but the rest of the team will still be taking part.
The relay event is aiming to raise £1m for Cancer Research in a gruelling effort which could take up to 40 hours.
Taking part are Boyzone singer Ronan Keating, former Atomic Kitten singer Jenny Frost, Strictly star Pamela Stephenson, The Gadget Show's Jason Bradbury and Olympic medal-winning swimmer Steve Parry.
Tropical storm
Sir Richard, head of Virgin Group, has thanked the public for their support, following the fire at his home in the British Virgin Islands last week.
British actress Kate Winslet was among 20 people who fled The Great House on the island when a tropical storm broke out and lightning hit the house.
Frances Milner, director of supporter-led fundraising at Cancer Research UK, said: "Sadly Richard Branson has had to withdraw from Cancer Research UK's first celebrity challenge, The Samsung Galaxy S II Swim.
'Disappointed'
"We're disappointed but understand that he needs to be with his family after fire devastated their home.
"He has kindly offered to dedicate a future record-breaking challenge to Cancer Research UK."
The team will be joined by two experienced "super swimmers" and two members of the public and will swim a total of 56 nautical miles (65 land miles) from Holyhead.
However, tidal variations mean the swimmers could end up covering a distance of up to 70 nautical miles (81 land miles).
Parry, 34, was diagnosed with testicular cancer 18 months ago, just three weeks after getting married.
He said: "I'm so lucky that I was diagnosed at the early stages of testicular cancer.
"If I hadn't checked it out, I may not be here today.
"My father is also a cancer survivor, and sadly my sister-in-law passed away from cancer in her early 30s.
"Cancer Research UK is a charity that is close to my heart."